Custom boot logos are always a popular customization to do to Jailbroken iOS devices as they add a unique twist to your device. There is a vast amount of boot logos available on the internet and you can even create your own very easily using an image editing program like Photoshop.
Although custom boot logos are more useful for Untethered Jailbreaks, with the official iOS 6 tethered Jailbreak being released not too long ago, we thought we would show you how to apply custom boot logos for entertainment purposes. It is important to keep in mind that these custom boot logos will only show during the first reboot after applying it, because you are tethered.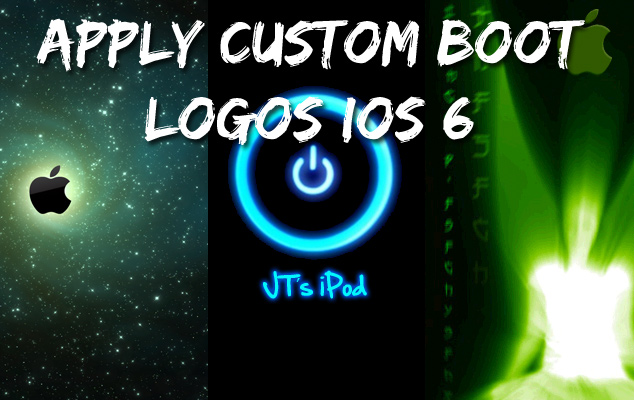 Apply Custom Boot Logos iOS 6
Step 1) – The first thing you will need to do is Jailbreak your iPhone 4, iPhone 3GS or iPod Touch 4G running iOS 6 tethered with RedSn0w. You can find a guide on how to do this by clicking here.
Step 2) – The next thing you will need to do is either find a boot logo (Google will be your friend here), or create one yourself using an image editing program like Photoshop. Keep in mind that if you go this route it will need to be in a .png format and in one of the following dimensions.
iPhone 4/iPod Touch 4: 640px by 960px
iPhone 3GS: 320px x 480px
Step 3) – Now that you are in possession of a boot logo you will need to download the latest version of RedSn0w, which you should already have if you just Jailbroke iOS 6. If not though, you can download it from the iJailbreak Downloads Section or from one of the direct links below.
Download RedSn0w v0.9.15b2 for Windows
Download RedSn0w v0.9.15b2 for Mac OS X
Step 4) – Once you have downloaded RedSn0w, launch it, click the Extras button, followed by the Even More button and finally the Preferences button.
Step 5) – From the Preferences menu you will need to simply click the Boot logo button, select the boot logo you found or created in step 2, and then double click the back button. You should now see a button that says Just boot, click this button now and follow the instructions for rebooting your device. At this point you should see your custom boot logo displayed.
This tutorial will obviously be more useful when an Untethered iOS 6 Jailbreak is available, but we thought we would publish the instructions earlier, as it can still be used on tethered Jailbreaks. If you have any further questions or thoughts please turn your attention to the comments section below.