Earlier today Chronic Dev released a new tool that can collect crash reports from your iPhone, iPod Touch or iPad called Chronic-Dev Crash Reporter. The aim of Chronic-Dev Crash reporter is to stop the supply of crash logs to Apple, and instead route them to a private server owned by Chronic Dev. By using Chronic-Dev Crash Reporter you will be aiding Chronic Dev in developing untethered iOS 5 Jailbreak solutions for the iPhone 4S, iPad 2 and other iOS Devices.
In this How To guide from iJailbreak.com you will learn how to use the Chronic-Dev Crash Reporter tool on the Mac OS X operating system to help find untethered iOS 5 Jailbreaks.
Use Chronic-Dev Crash Reporter Mac OS X
Step 1) – The first thing you will need to do is download Chronic-Dev Crash Reporter to your Mac computer.
Step 2) – Next you will simply need to launch Chronic-Dev Crash Reporter.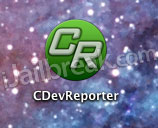 Note: You may need to grant Chronic-Dev Crash Reporter permission to run.
Step 3) – When Chronic-Dev Crash Reporter is up and running you will need to plug your iPhone, iPod Touch or iPad into your computer (ensure you quit iTunes when it launches before moving onto Step 4).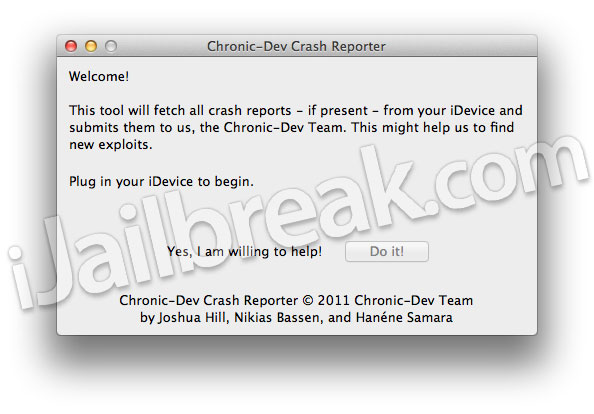 Step 4) – Chronic-Dev Crash Reporter will now recognize your iOS Device. Once it recognizes your iPhone, iPod Touch or iPad click the Do it! Button.
Step 5) – From here you will be told how many Crash Reports were found, and then Chronic-Dev Crash Reporter will begin uploading these Crash Reports to the private Chronic-Dev server.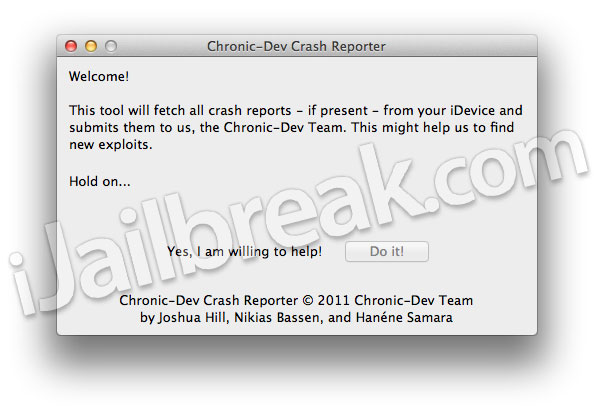 Step 4) – If all went well, your iOS Device will no longer submit Crash Reports to Apple and you should have a good feeling inside knowing you have just helped develop future untethered Jailbreaks for us all.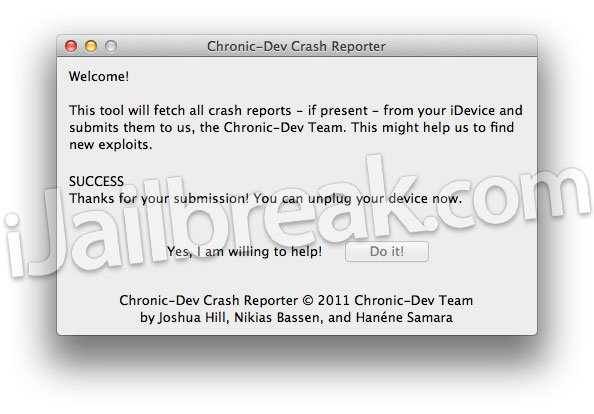 Note: If you get an error and are not able to upload Crash Reports at that specific time, come back later and try again. This means Chronic-Dev's servers are too busy.
Please leave any questions or thoughts in the comments section below. Additionally, let's see who submits the most amount of Crash Reports!