Apple released iOS 4.3.5 today to fix another vulnerability within the iOS firmware. As iOS 4.3.5 patches Comex's untethered jailbreak we do not recommend updating, as you will have to bare with a *tethered jailbreak. If you previously updated to the iOS 4.3.4 firmware, however, or do not mind a tethered jailbreak you can follow our how to guide below for jailbreaking the iOS 4.3.5 firmware on iPhone 4 and iPhone 3GS.
*For more information about tethered jailbreaks.
Note: This Jailbreak requires you to update/restore to the iOS 4.3.5 firmware, and then point RedSn0w 0.9.8b4 to the iOS 4.3.4 firmware (not the iOS 4.3.5 firmware).
Update #1: RedSn0w 0.9.9b1 is now available to download and will jailbreak all firmware versions listed in the title, as well as all iOS devices except iPad 2 (which can be jailbroken on iOS 4.3.3 with JailbreakMe 3.0). iOS 5 beta series firmwares are also supported.
Step 1) The first thing you will need to do is download RedSn0w 0.9.8b4 and iOS 4.3.4 from our iJailbreak Downloads Section.
Step 2) Once you have downloaded RedSn0w 0.9.8b4 to your desktop, you will need to launch it. Do this now by clicking the executable file (for Windows) or by clicking the application (for Mac OS X).
Step 3) Once RedSn0w is up and running, you will simply need to browse for the iOS 4.3.4 firmware (NOT iOS 4.3.5).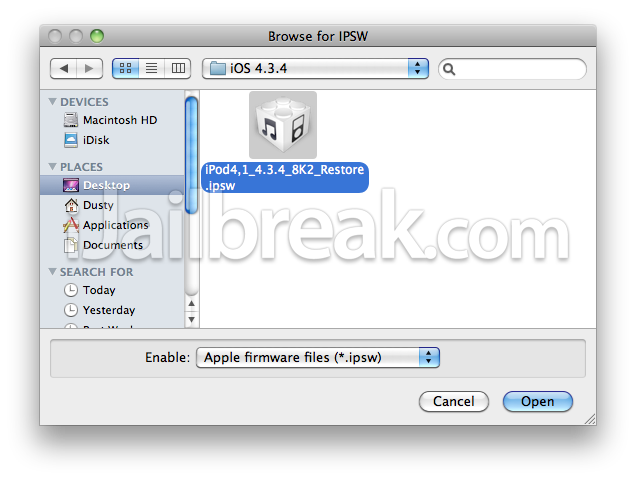 Once you successfully select your firmware file through RedSn0w it will say "Processing firmware" then "IPSW successfully identified".
Click the next button to continue (when you do this RedSn0w will begin preparing jailbroken data).
Step 4) The next screen you will be brought to is a screen that features multiple checkboxes. The only checkbox that must be enabled is Cydia (as this is the default jailbreak installer); the rest of the checkboxes are optional and should only be checked if you know what you are doing.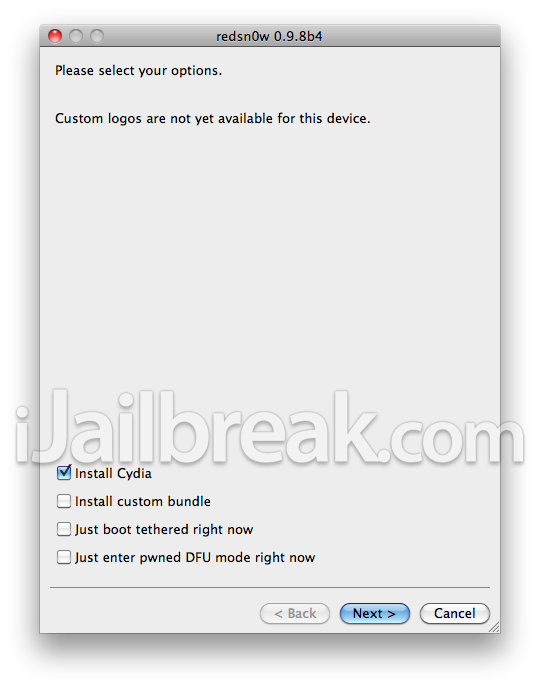 When you have ensured "Install Cydia" is checked you can click the next button.
Step 5) From this next screen the only thing left for you to do is put your iPhone into DFU mode. You will need to make sure that you turn your iPhone off, and you plug your iPhone into the computer before clicking the next button.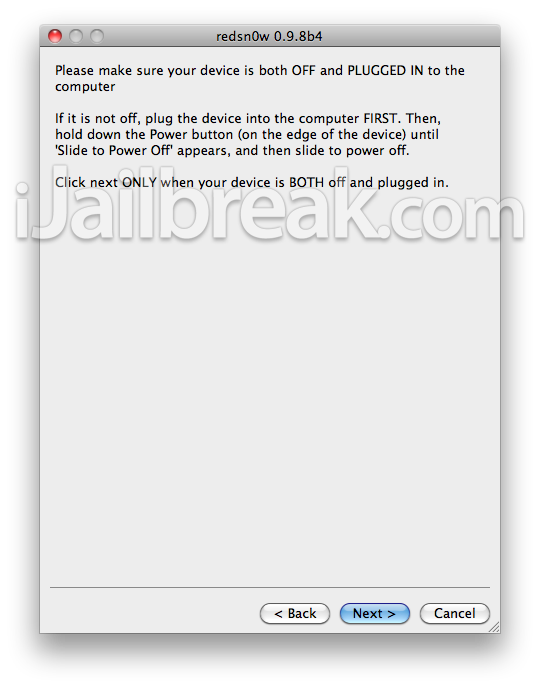 Once you have done this, click the next button and follow the on-screen instructions.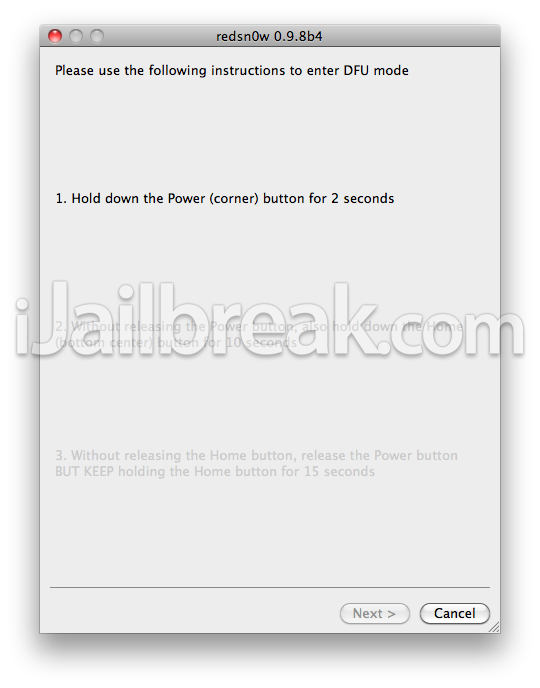 Step 6) Once your iPhone is into DFU mode, RedSn0w will handle the rest of the jailbreaking process. You just need to sit back and watch RedSn0w perform its jailbreaking magic. Once your iPhone is done being jailbroken, you should see Cydia on your SpringBoard. This means the jailbreak has been carried out successfully. Congratulations on jailbreaking your iPhone 4/3GS tethered on the iOS 4.3.5 firmware.
NOTE: How to boot tethered jailbroken iPhone 4/3GS after reboot, launch RedSn0w and select "Just boot tethered right now".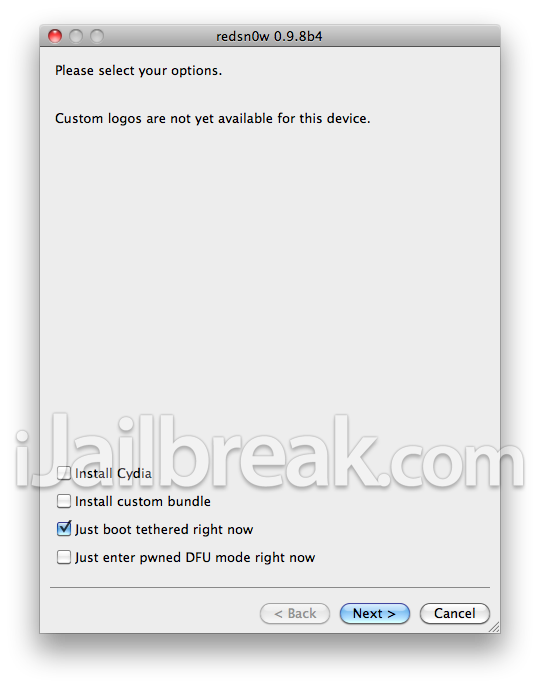 Let us know if you were able to jailbreak your iPhone 4/3GS with RedSn0w 0.9.8b4 in the comments section below. Also if you experienced any difficulties please share them with us and we will try our best to help you out.