Are you experiencing problems with your iPhone, iPod Touch or iPad after updating to iOS 9? You're not alone. A large number of users are complaining that after updating to iOS 9, their devices have been plagued with lag and crashing apps.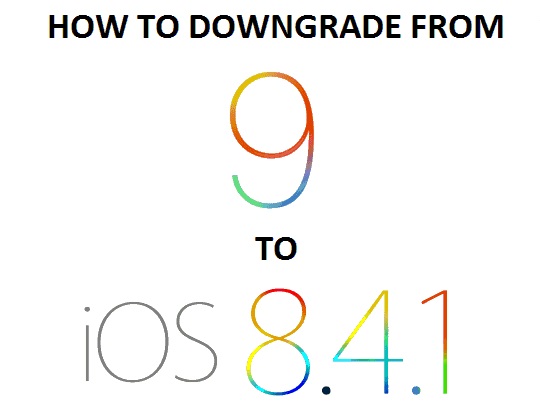 Not to worry though, as you can downgrade from iOS 9, 9.0.1 or 9.0.2 to iOS 8.4.1. Apple is still signing iOS 8.4.1, which means that you can simply go back a version and get rid of all the bugs in iOS 9.
The lag isn't present for all iOS 9 users though, so if everything is going smooth and good for you, then you don't need to downgrade. Here are some comments from users who updated to iOS 9:
"iOS 9 is noticeably slower than iOS 8 and I'm not happy."

"I'm not sure whats going on but iPad Air 2 is struggling."

"Everything takes ages, it's very laggy."

"iPhone is settled down but then the weird animation stutters randomly creep in, apps launch slower." 

"I honestly cannot stomach this sort of regression in a one year old phone. I'm scrambling to get back to iOS 8 and hope my back up is going to work."
If you're one of those users, you can simply downgrade to iOS 8.4.1 or do a fresh install of iOS 9. Remember, this is the first release and bugs were expected. Beta testers are reporting that iOS 9.1 is much smoother and has no lag.
Anyway, here's how to downgrade iOS 9 / 9.0.1 / 9.0.2 to iOS 8.4.1:
Download the iOS 8.4.1 IPSW file for your specific iPhone, iPod Touch or iPad from our Downloads page.
Make sure you've made a backup of your iOS device and then connect it via USB to your Mac or PC.
Turn off Find my iPhone and TouchID/Passcode.
Launch iTunes and select your device.
In the Summary page, click on Restore iPhone while holding the Shift key on Windows or Option/Alt key on Mac.
Select the iOS 8.4.1 firmware from the downloaded folder and click Okay.
The downgrade process should start immediately and will take a few minutes to complete. That's it, you're now on iOS 8.4.1!
Update #1: You can no longer downgrade to iOS 9 or iOS 8.4.1 as Apple has now closed the signing window for all iPhone, iPad and iPod Touch devices.