With the release of the iOS 5 firmware came hundreds of new features including Notification Center. The Notification Center acts as your central hub for notifications and by default you can add widgets to the notification center such as Weather, Mail and Reminders. Wouldn't it be nice if you could customize the notification center to include 3rd party widgets that allow you to, for example, turn your iPhone 4's flash on and off, search Google and display frequently used contacts?
If you answered yes you will be glad to know that thanks to the Jailbreaking Community we can add Jailbreak widgets to the Notification Center to do just those things and more! In this how to guide from iJailbreak.com you will learn how to add Jailbreak widgets to the iOS 5 Notification Center.
Note: You must be Jailbroken on the iOS 5 firmware. Click here for a detailed guide to Jailbreaking your iPhone, iPod Touch and iPad on the iOS 5 firmware.
Add Jailbreak Widgets To Notification Center
 Step 1) – The first thing you will need to do is launch Cydia from your SpringBoard.
Step 2) – When Cydia is up and running go into the Search tab and search the following phrase:
Notification Center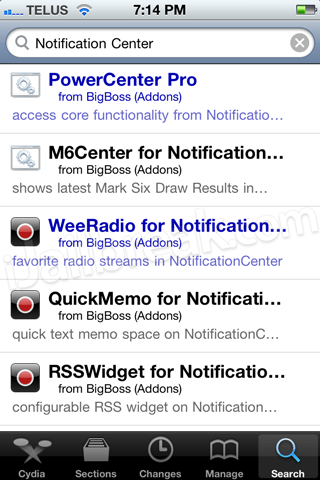 Additionally, you can go into the Sections tab and tap on the section shown below:
Addons: Notification Center
Whichever method you use you should now see a list of Jailbreak Notification Center widgets.
Step 3) – Choose on of these Jailbreak Notification Center widgets and install it to your iPhone, iPod Touch or iPad.
Step 4) – After the Jailbreak widget has been installed press the home button and go into the Settings.app.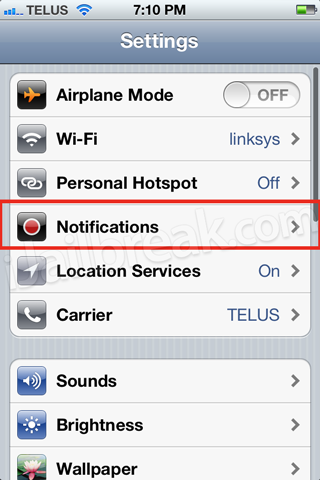 Step 5)  – Tap the Notifications Tab and you will be presented with a list of currently installed notifications. Scroll down till you see the Not In Notification Center section and you should see the notification you just installed through Cydia.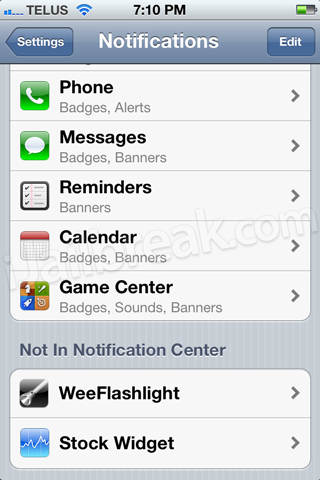 Step 6) – The next thing you need to do is tap the Edit button in the top right corner and drag the Jailbreak Notification Widget where you want it to appear on the notification center.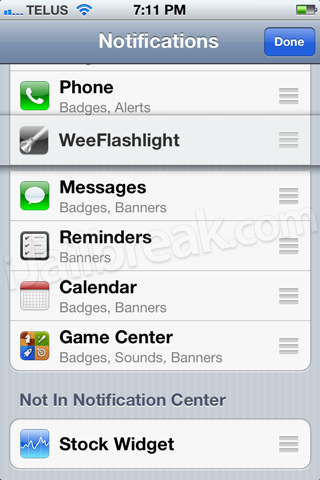 Step 7) – Exit the Settings.app by pressing the home button and drag your finger down from the top of the screen to bring up the notification center.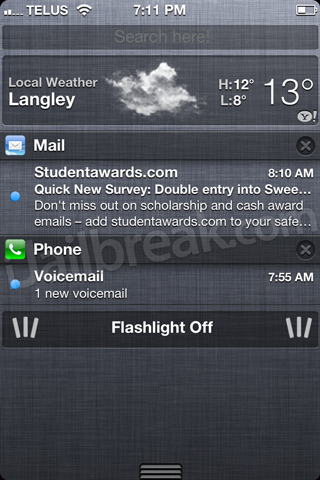 You should now see the Jailbreak Widget in the notification center. Congratulations.
In this how to guide you learned how to add a Jailbreak Widget to the Notification Center. If you have any questions or comments please leave them in the comments section below. For more how to guides like the one you just followed please visit iJailbreak's How To section.
Update #1: Having troubles with the SlideCenter widget? Follow this quick fix by clicking here.