Every once in a while, you find a Cydia tweak that makes you think, "why isn't that a default setting?" DisableNC doesn't axe the Notifications Center like its title suggests, rather it tells the Notifications tab to sit down and be quiet while the iPhone is running games in full screen. Were you in the zone in Jetpack Joyride only to have your iPhone seize up and show you some notifications? This is a tweak you won't know how you lived without.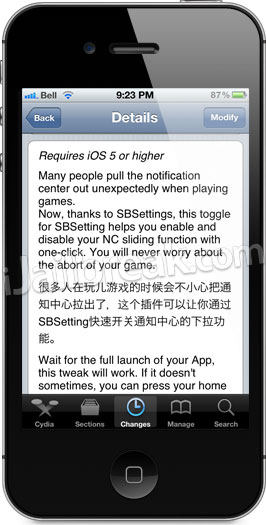 When DisableNC is in use, you can still access the Notifications Center from the home screen or any app that retains the status bar. Within fullscreen apps the tiny pull tab will still appear, but is pleasantly non-functional. I triggered the tab several times during a game of PuzzleJuice and it did not interrupt my play. The Notification tab was also neutered in Plants vs Zombies, Canabalt, and Angry Birds Space. (But not apps like Scramble.) I can exit the app, turn off DisableNC, and my Notification tab is back to its game interrupting business. I promptly switched DisableNC back on.
DisableNC was developed by _iceNuts, who has also developed a Cydia tweak that allows the iPhone to share images to Weibo (think Tumblr in Chinese). It's available for free through the BigBoss repository in Cydia, for iOS 5.0 and higher.
Has the Notifications Center tab turned your games into a pain? Let us know in the comments section below.