About a week ago we showed you how to hide stock iOS applications on non-Jailbroken devices. The process essentially involved navigating to the developers website and installing a package that allows you to temporally delete a stock iOS app. Now a new variation of this hack has surfaced that makes it easier to access the packages needed to delete stock iOS apps through Passbook.
The new hack is called PassHack and will add a new Passbook that allows you to easily hide new iOS applications. Just like last time however, keep in mind that the applications you hide will re-appear after you re-boot. Furthermore, f you attempt to hide the App Store app you will not be able to continue hiding additional apps. As such, if for some reason you are going to hide the App Store app, do it last.
How To Hide Stock iOS Apps With PassHack
Step 1) – The first thing you will need to do is navigate to the following website:
www.cydiahacks.com
Step 2) – Once you visit CydiaHacks.com, tap on the Get PassHack button, followed by the Add to Passbook button. A new page will now appear, tap the Add button in the top right hand corner of the screen.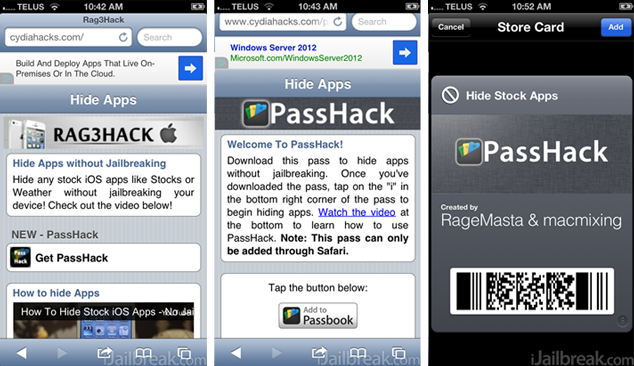 Step 3) – Press the home button on your iOS device and then launch Passbook. With Passbook up and running you should see the PassHack Passbook. Tap the "i" button in the bottom right hand corner of the screen and the pass should flip over revealing to you various links, which will let you hide stock iOS applications.
Step 4) – Find the application that you would like to hide first and then tap on the link. When you do this a dialog window will appear, tap the Install button.
Upon pressing the Install button you will get a message stating "Unable to Download Application." Fear not! This is completely normal, and you will simply need to tap the Done button.
Step 5) – You should now notice the application you are wanting to hide has turned grey. Simply tap and hold the icon to enter "Jiggle Mode" and then tap on the X button in the top left hand corner of the app to remove it.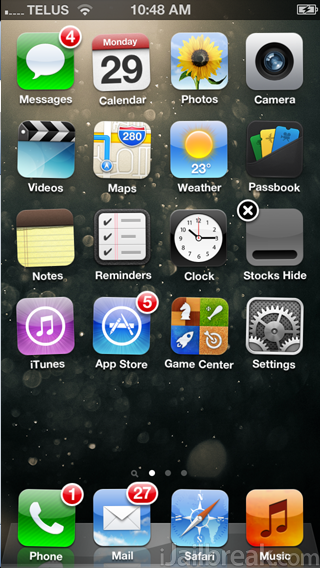 There is nothing really new to PassHack, besides the fact it is now more easily accessible through the Passbook app versus Safari. Remember, if you want to get the applications you hid back, just re-boot your iOS device.