Recently we shared with you a new update for Google Chrome that brought about new gestures, the ability to share links via the stock iOS Messages app and much more. Something else this update  brought about unfortunately, was Jailbreak detection.
It is a good thing that Google is taking security seriously, but according to Saurik the problem is the search engine giant implemented the detection logic in a faulty way that leads to Chrome crashing on users a few seconds after launching the app.
The reason why Chrome crashing after launching it is because it automatically assumes you are sending usage data back to Google. By default this functionality is actually turned off, meaning for most users of Chrome who are Jailbroken, the app does not work correctly. Google said they are working on a patch, but there was no ETA given and it likely won't be here for awhile.
In the mean time there is actually a couple of things you can do to make Google Chrome work on Jailbroken devices, with the most obvious being turning on usage data reporting.
Note: It is important to keep in mind you need to perform these steps extremely quick. It took me about 8 tries to finally complete all the steps without the app crashing, so be patient. Also, do not scroll to get to any of the Settings if they are already visible, scrolling down to better see the next area you need to go to takes too much time.
Step 1) – First things, first. Launch the Google Chrome app.
Step 2) – Tap the Menu button in the right hand side of the screen (next to the tabs button) and then quickly tap Settings.
Step 3) – Next from this screen you will need to tap on Privacy under the Advanced section.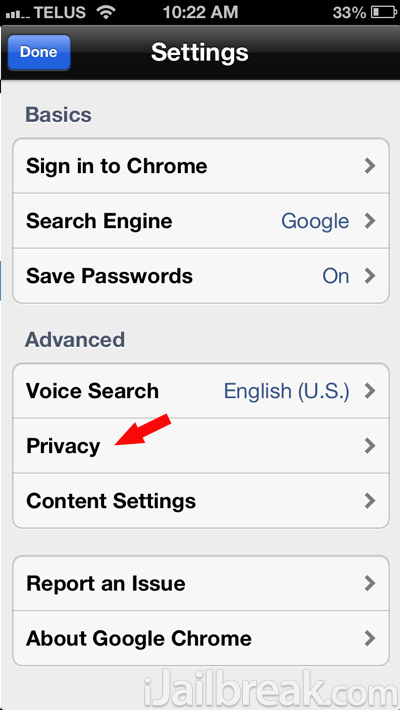 Step 4) – Finally tap Send Usage Data under the Web Services Section.
Step 5) – From this next screen you can tap either Always or Only on Wi-Fi and then tap the Done button.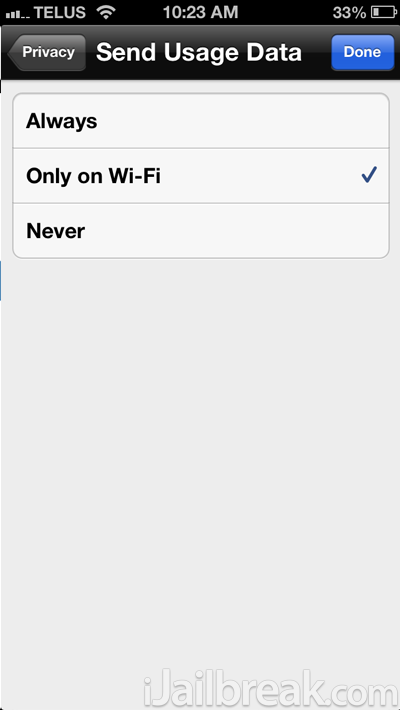 Congrats. Chrome will no longer crash anymore. If for some reason you are against sending data back to Google there is actually another workaround that simply involves installing a tweak called Chrome Crash Fix. This tweak is hosted on a private repository from HASHBANG Productions and can be installed by very simply adding the repository shown below:
http://hbang.ws
Let us know which method you used to fix Google Chrome in the comments section below.