Pod2g, one of the developers behind the recent Absinthe 2.0 jailbreak, tweeted today that an exploit used by developers to gain root access to iPhones, iPads, and the iPod Touch was closed in a beta of iOS 6. This exploit is noteworthy because it was found by Comex back in 2010.  The developers are not entirely sure if the bug has been patched or if it doesn't work for other reasons, and will attempt to see if it's still exploitable "with some little modifications."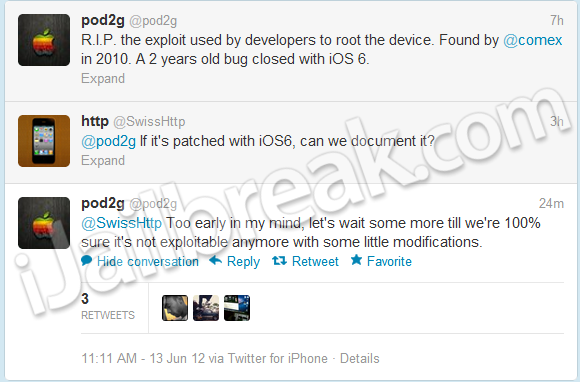 Another developer, Shuvalov Pavel (@shuva10v), writes that iOS 6 removed an extremely useful feature for jailbreaking from the system. Patel, the developer behind the expensive InteVyDis jailbreak method intended for use by security professionals, referred to the loss of a "funny feature that makes userland exploitation easier."
The developers aren't getting into specifics on what iOS 6 broke and what it didn't, as the latest iOS operating system is still in development. We will have a better idea of the situation when iOS 6 is out of beta.
Pod2g mentioned in an interview at the Hack In The Box security conference that the jailbreak community has a pool of unreleased jailbreaks which they use to inject code into a kernel in order to find publicly releasable exploits. Considering how long-lived Comex' exploit was, it may have been one of these saved exploits.
As far as good news goes, we know that MuscleNerd was able to get a barebones tethered jailbreak working in iOS 6 on his 4th generation iPod touch. (Although that's not a huge deal considering it's an A4 device and should be jailbreakable for life, thanks to GeoHot's bootrom exploit.)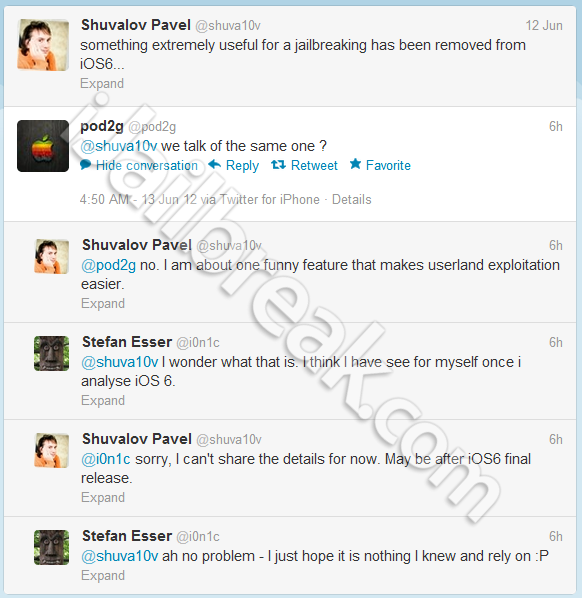 Comex' lost exploit may complicate untethered and A5 device jailbreaks when iOS 6 is released. Keep in mind that a jailbreak of iOS 6 could take a while, and that any new features should be weighed against what a jailbreak can offer.
Will you upgrade to iOS 6 or stay at iOS 5.1.1 for a while? Share your thoughts in the comments section below.