Last week P0sixninja stated that he was working on something "bigger than a Jailbreak" and today we finally have an idea of just what this something is. It all started with a tweet from P0sixninja yesterday when he said "Ok, I hate redsn0w, I hate sn0wbreeze, and I hate 6.1.3. I'm ready to get this #openjailbreak off the ground."
You are probably thinking to yourself "what's an open Jailbreak?"
Well, iFans investigated into the matter and after talking with P0sixninja is has been discovered that it will be an open source Jailbreak repository that is going to be managed by a team headed by P0sixninja. Even the renowned graphic designer Surenix will be part of the team.
"Essentially it's going to be a repository of open source jailbreak components that I created over the years," claims Hill. "So much of my code has been hacked up and incorporated into other projects, it's becoming very fragmented. There's no central repository to maintain all this code, to allow other developers to submit patches or help layout a roadmap for what new features and abilities will be added in the future."
Essentially this repository will help breathe new life into the Jailbreaking community, allowing users to contribute and learn from the code, producing cross-collaboration that could ultimately lead to quicker discovery of future jailbreak exploits for iOS 7 and beyond.
It doesn't stop there, though! According to P0sixninja, this is just a small part of an ultimate plan. Unfortunately P0sixninja didn't elaborate on this statement, but many believe he has a bootrom exploit up his sleeves.
Keep your eyes posted on OpenJailbreak.org which will be launching within the next week or so. In the meantime, we will keep you updated when more information is available. Stay tuned.
Update #1: The OpenJailbreak Website Goes Live, Take A Peak
In the beginning of July we reported that none other than P0sixninja was working on a secret project that was "bigger than a Jailbreak" called OpenJailbreak.
The OpenJailbreak.org website is now live. The site is based on the Redmine project management tool and currently contains a ton of open source projects for manipulating Apple's IPSW files, crash reports, HFS partitions and DMG files. There is even libraries for accessing and manipulating iOS DyldCache files.
This is just a start to OpenJailbreak and more and more projects will be added to the site in the coming weeks. With Surenix actively working on the sites them as well you can expect great things from OpenJailbreak in the near future.
We will keep you updated on OpenJailbreak's progress so stay tuned.
Update #2: The Open Source Jailbreak Repository OpenJailbreak Is Now Live
Back in the beginning of July we reported that P0sixninja ended up launching his website OpenJailbreak.org, but that it wasn't the finalized version only a temporary home for what would be coming. At the WWJC 2013 today, however, P0sixninja took wraps off the full version of the site that's main focus is to create more collaboration amongst developers in the Jailbreaking community.
OpenJailbreak.org is not a Jailbreak par say, but rather a portal where people interested in contributing to the Jailbreaking community will have access to open source components from previous tools like GreenPois0n and Absinthe. Besides these open source components there will also be be bug, feature and issue tracking.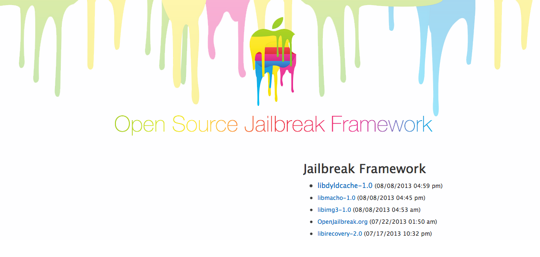 These open source components in particular make it much easier for someone to come in and start getting into the Jailbreak development scene, rather than starting from scratch. Obviously you will still need a background in computer programming though for them to be of use and to help out with the cause.
As P0sixninja explained "there is simply too much code for one person to manage, and it would help to offload some of this work and distribute it among those willing to help."
The current projects on OpenJailbreak.org right now include:
libmbdb-1.0 for modifying iOS IPSW backups
libmacho-1.0 to modify and parse Apple Mach-O executables
libimg3-1.0 for decrypting iOS IMG3 files
libdyldcache-1.0, libirecovery-2.0, and libcrippy-1.0
libafc-1.0 for communicating with iOS AFC
ibipsw-1.0 for parsing and extracting IPSWs
libtss-1.0 for requesting TSS from Apple's servers
libbbfw-1.0
libsyringe-1.0 for injecting bootrom exploits
libanthrax-1.0 for running code on ramdisks
libcynaide-1.0 for parsing and manipulating iOS dynamic linker shared code
libansinthe-1.0
libidevicerestore-1.0
libidevicebackup-1.0
libideviceinstall-1.0
libideviceactivate-1.0
OpenJailbreak.org is just one of four websites that P0sixninja is reportedly launching. You can check out the site for yourself.