Cydia repos (otherwise known as sources) are a large part of the Jailbreaking community as it is how tweaks, utilities and themes are made available for the end user to download. By default when you first Jailbreak your iPhone, iPod Touch or iPad you are given the most common repositories that include BigBoss, ModMyi, ZodTTD & MacCiti, Cydia/Telesphoreo and Dev Team but there is a ton of other repositories that are worth checking out.
In this post I plan to share with you the top 12 Cydia sources of 2013 for your Jailbroken iPhone, iPod Touch or iPad that will allow you to install some cool packages that you can't find on the stock repositories. But first, how can you take advantage of these top 12 Cydia repos of 2013 if you don't know how to add them to Cydia!
How To Add Cydia Repos / Sources
In order to add Cydia repos to your Jailbroken iPhone, iPod Touch or iPad you will simply need to follow the instructions presented to you below. If you already know how to add Cydia repos then you can skip this section.
Launch Cydia and navigate to the Manage tab.

From the Manage tab tap on the Sources section which will bring you to an overview of all the sources you have installed.
Tap the Edit button in the top right hand corner of the screen, followed by the Add button in the top left.
Now you will simply need to enter the Cydia/APT URL into the text field and hit the Add Source button. In some cases you will also need to tap the Add Anyway button if it is a source that has been flagged to contain cracked packages.
Top 12 Best Cydia Sources Of 2013
1. HASHBANG Productions
The HASHBANG Productions Cydia repository contains a bunch of beta software and other goodies that you won't find on the BigBoss repo such as tweaks like Fontee and ScreenFade. It is definitely worth adding as new tweaks and experiments are constantly being added.
http://cydia.hbang.ws/
2. Ryan Petrich's Beta Repo
One of the most well known Cydia tweak developers is Ryan Petrich and before releasing any of his major Cydia tweaks he usually beta test them in his beta repo. Inside this repo you will find a ton of beta tweaks, experiments and more that are worth checking out. Some notable ones include DeepEnd, Monocle and Emphasize.
http://rpetri.ch/repo/
3. FilippoBiga's  Beta Repo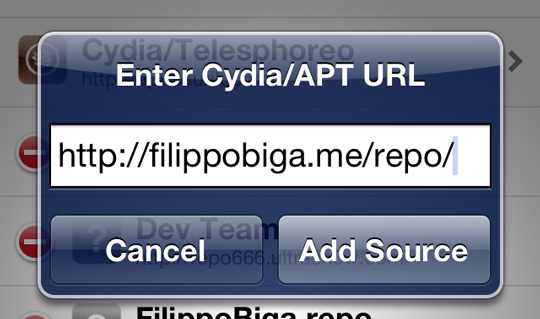 Filippo Biga is another well known Cydia tweak developer who has his own beta repository where he hosts a variety of unfinished tweaks and other goodies. Although there isn't many packages in Filippo Biga's repo at the time of writing this post it will be worth adding in case he seeds a new project to it.
http://filippobiga.me/repo
4. ZodTTD's Beta Repo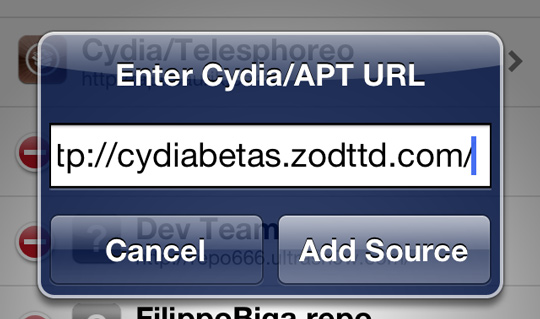 ZodTTD is best known for his iOS emulators like gpSPhone and N64iOS. In his beta repository he will be hosting beta versions of his emulators before they touch down on an official community source. Although there isn't any packages in the repo at the time of writing this post he has stated that next on his list is to work on N64 and PSX iOS emulators and when he does they will appear in this repo.
http://cydiabetas.zodttd.com/
5. Pushfix 
The Pushfix repo contains a bunch of packages related to various carrier patches, fixes for other applications like YouTube and some advanced packages like TCP Optimizer. Although the repo is a little dated it may still be worth checking out for tweaks like FaceClockUp and RecoveryGuard.
http://cydia.pushfix.info/
6. iF0rce
The iForce repo contains a bunch of useful Cydia tweaks related to Bluetooth file sharing with the most notable being AirBlue Sharing and some other tweaks like Siri0us and Sparrow Sharp. It doesn't have the most Cydia tweaks in the world, but the tweaks that are hosted on this repo are unique.
http://apt.if0rce.com
7. iHackStore
The iHackStore repo contains a ton of tweaks, themes, apps, ringtones, mods, cheats and various other hacks. Although this repo does contain cracked Cydia apps there is a lot of content you can find on this repo that isn't available in community sources. Just be sure to support developers if there is a tweak you do end up downloading cracked and use on a regular basis.
http://ihackstore.com/repo/
8. HackYouriPhone
Just like the iHackStore repo the HackYouriPhone repo has a little bit of everything ranging from themes, mods, apps, tweaks, IPA files and downloadable content. There is a bigger focussed on IPA files and DLC, however, in this repo so if you are someone who takes advantage of cracked iOS applications you will likely take a fancy to this repo. Once again, this repo does contain cracked material so be sure to support developers if there is an app or tweak you end up using on a regular basis.
http://repo.hackyouriphone.org
9. iHacksRepo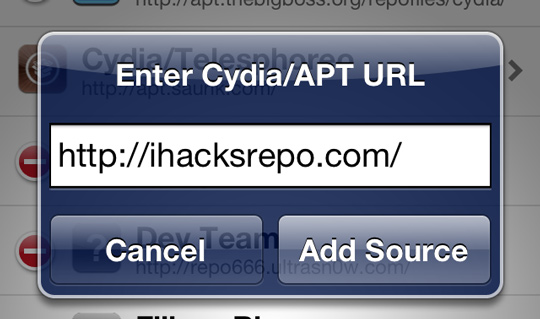 Similar to both iHackStore and HackYouriPhone the iHacksRepo contains a bunch of content ranging from tweaks, apps, WinterBoard themes, DreamBoard themes, utilities, ringtones and much more. There really is a little bit of everything in this repo and it is regularly updated.
http://ihacksrepo.com
10. SiNful iPhone Repo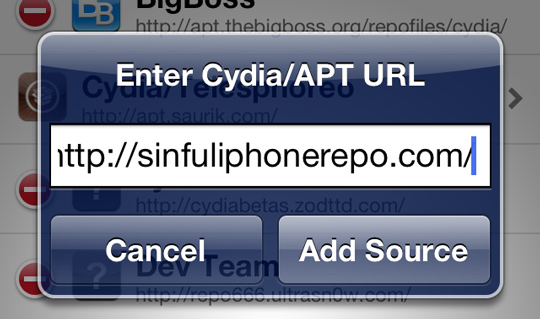 The SiNful iPhone repo has been around for a long time and is probably best known for its large library of cracked Cydia tweaks, apps, themes, mods, emulators, ROM packs and other goodies. There is over 300,000 members in the SiNful iPhone community so you know there is going to be a ton of content in the repo. Just do me a favor and purchase the tweaks you do end up using on a regular basis to support the developers.
http://sinfuliphonerepo.com
11. xSellize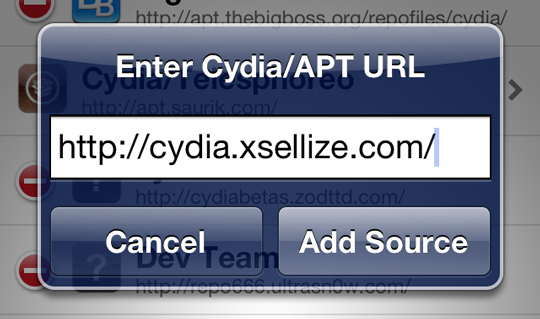 This particular repo is definitely going to appeal to gamers because there is a huge variety of emulators and ROM packs for Game Boy Advanced, NES, N64 etc. The repo isn't updated as often as repos such as SiNful iPhone or iHackStore, but it is home to a lot of packages to say the least.
http://cydia.xsellize.com
12. Insanelyi
If there is one repo that has grown the fastest the last little while I would probably say it would be Insanelyi. This repo is home to more packages than you can shake a stick at and it seems to be updated on a daily basis. There is a ton of tweaks that have been made specifically for this repo, 60+ unique scripts made by the community and even some packages for the Apple TV. I would definitely urge you to check this repo out!
http://repo.insanelyi.com
Well folks I hope you have enjoyed the top 12 Cydia sources of 2013. I am sure I have left out some other good repos, but I will turn it over to you to let the community know about them in the comments section.