Back when Jailbreaking was beginning to gain popularity one of the big things a lot of people were into was emulators. Nowadays it seems like, however, that a lot of people have forgotten about emulators. There are all sorts of emulators available for the iPhone, iPod Touch and iPad such as n64iphone (Nintendo 64 emulator), genesis4iphone (Sega Genesis emulator), gpSPhone (Gameboy Advance emulator) and many more! With these emulators you can play all time classics such as Super Mario, Harvest Moon, Zelda, Pokemon and so many other games that are sure to bring back memories.
iJailbreak.com is going to start bringing back these emulators thanks to recent updates from ZodTTD, and is even going to show you how to setup the emulators so you can experience hours of enjoyment playing these classic games.
The first emulator we are going to talk about is – gpSPhone. gpSPhone is a Gameboy Advance emulator that is regularly updated and is supported all the way up to the iOS 4.3.5 firmware. It has a built in Rom (game) downloader to avoid always having to SSH them to your iPhone, iPod Touch or iPad and handles almost all Gameboy Advance games with little to no lag.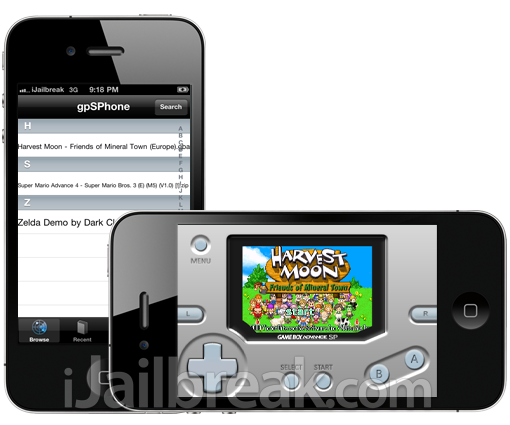 If you are interested in the gpSPhone emulator you can find it through the ZodTTD & MacCiti Repo for a price of $4.99. We will have how to guides available on installing ROMs and using gpSPhone in the near future, until that time you can visit ZodTTD.com or leave any thoughts in the comments section below…