As we've reported, the Octopus Keyboard is a custom input method based on the BlackBerry 10 platform's innovative predictive keyboard model, has been available for purchase from the developer's custom repository since the beginning of the month. The developers said that their custom keyboard would be released on a default repository. As promised, the Octopus Keyboard (updated to version 1.04-11) is now available on the BigBoss repository.
Along with the keyboard are 18 optional dictionary plugins. These Octopus Dictionaries are available so users can quickly use the predictive typing features, instead of waiting for Octopus Keyboard to gradually pick up your most-used words. Even without the dictionary packs, Octopus Dictionary supports "all major languages", except Japanese, Korean, and Chinese. There are over a billion speakers of Mandarin Chinese, so I would think it would qualify as a "major language", although linguistically it may be challenging to implement.
One quirk with Octopus keyboard is that it disables iOS' default autocorrection scheme. Currently the two predictive typing features are incompatible, but the developers are working on a fix for future versions.
Unfortunately there is no demo included in Octopus Keyboard as of yet. If you want to activate the plugin, you will need to fork over $4.99 for an account. The account is limited to registering two new devices each month, which should give you enough flexibility to cover any iOS devices your household has accumulated. The Octopus Dictionary packages are free, and can be set up through the tweak's Settings page.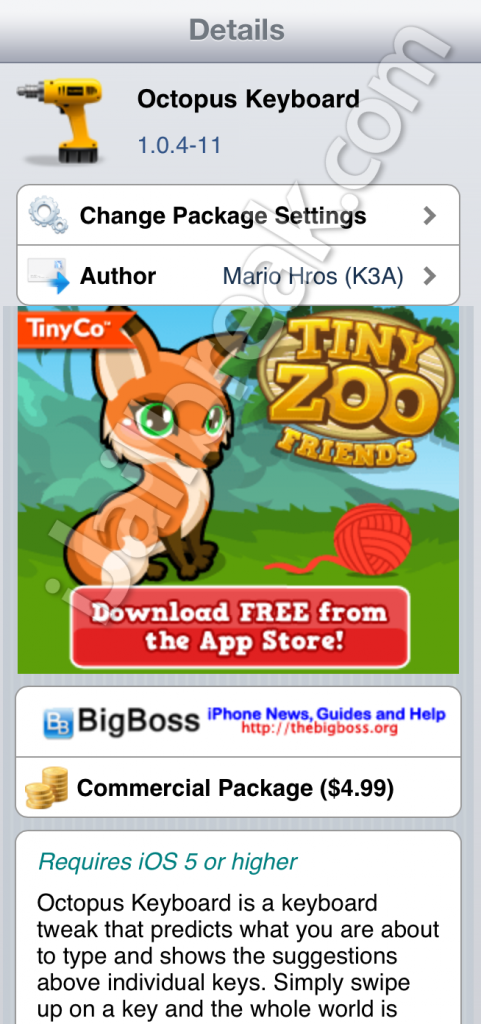 If you find that you type slowly on the iPhone's glass screen, Octopus Keyboard might be just the thing to give you a boost. What's your favorite text entry method? Default keyboard, Swype, or Octopus—share your thoughts in the comments section below.