At iJailbreak, we cover many tweaks in a month, but we don't only give attention to the gems. As well polished as some of the better tweaks are, these gems can end up buried under the never ending parade of new Cydia packages. To give clever hacks the attention they deserve, here's a list of the best Cydia apps, tweaks, and utilities that were released this month (or received game-changing updates):
#5 CallBar (Version 2) – $2.99
When iOS 5's 'swipe to dismiss' gesture made the original CallBar tweak redundant, the developers didn't discontinue the tweak; instead they completely reimagined CallBar, released it as an update, and made it available for free to everyone who purchased the original tweak on Cydia–that's amazing support. CallBar 2 replaces iOS' default incoming/outgoing call screens with an overlay that can be activated at any time without switching away from your open apps.
As an added bonus, Callbar introduces the iOS 6 Reply With Text feature to iOS 5.
#4 Snow Cover Simple — SEMI-AD SUPPORTED
Snow Cover Simple is a revival of the classic Snowcover tweak for iOS 5. The tweak/theme takes your currently playing album art and shrinks it down–which doesn't sound like much, but–trust us–this is a huge visual improvement on high resolution screens. After all, mid resolution images from iTunes tend to look blurry and terrible when stretched out on a Retina display. Another positive point: the developer is also upfront about the use of ads in the tweak, which disappear after 5 resets or resprings.
#3 NowNow/Activoice — FREE

NowNow and Activoice are more or less interchangeable tweaks–made available around the same time–that both provide Activator-based access to Google's voice search. NowNow is especially useful on devices without normal access to Siri, as it is more stable that using Spire or Spite on my iPhone 4 or iPad 3 in iOS 5.1.1. Activoice also includes activator gestures for Google Text search and Google Goggles, but the main attraction is the Google voice search.
#2 SwipeBack — FREE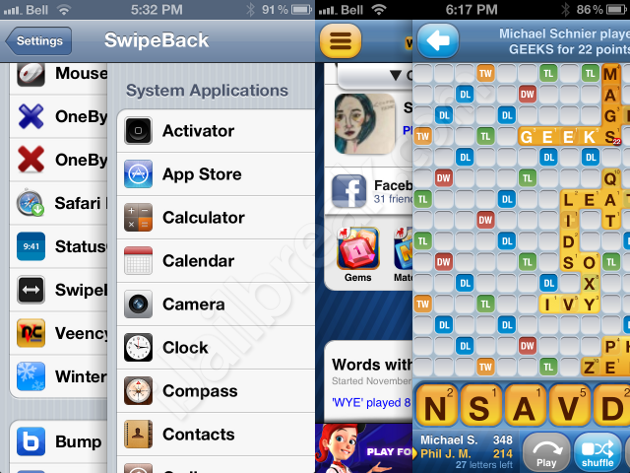 SwipeBack is a free Cydia tweak from Ryan Petrich's repository that changes the way you navigate through apps on the iPhone and iPod Touch. Instead of pressing the banner buttons at the top of the page, just swipe back with your thumb. It's an intuitive gesture, the animation looks good, and it works with more apps that you would expect. At the price of FREE, this is an interface tweak we'd recommend to anyone without hesitation.
#1 Universal Video Downloader — FREE
Universal Video Downloader technically launched in late October, but became one of our favorite Cydia utilities in early November when the developers fixed a major sound issue in iOS 5. The utility allows for downloads from just about any app you can name that plays video, including Safari, Chrome, YouTube, and Netflix. Because of its raw power and versatility, Universal Video Downloader earns our pick for Best Of Cydia for November 2012.
***
Those are just our picks for November, but there's still plenty of room for dispute. Does a different utility deserve the #1 spot? Did we miss an essential tweak? Do you absolutely hate this list? Share your thoughts in the comments section below.