Last week, when I was testing out The Universal Video Downloader Cydia utility, I noted that there were some potentially show-stopping bugs in the otherwise powerful downloader app. If you didn't read my previous review, Universal Video Downloader allows you to save videos from any source–including every major video streaming app I've bothered to test it with. The only issue is I wasn't able to save sound with any of the videos I attempted to download.
Lucky for us, the developers of this tweak were responsive. Earlier this week, Harrison Apps–Universal Video Downloader's developers–posted an update in our comments section saying that the newest version (1.1) has addressed the issues around recording audio in iOS 5. I tested the update by downloading the intro to the Twin Peaks TV series. (Who doesn't love the theme music?) I'm happy to report that the video plays perfectly with sound on my iPad test rig.
In addition to sound, the 1.1 update should also address a minor crash issue. If you didn't have the AppList Mobile Substrate Extension loaded in the previous version, it could have caused problems when selecting apps that you don't want triggering the Downloader. There may also be other bug fixes and optimizations. Altogether the tweak does seem more stable. Now that it's working, this might be one of the most powerful downloading tweaks we've seen.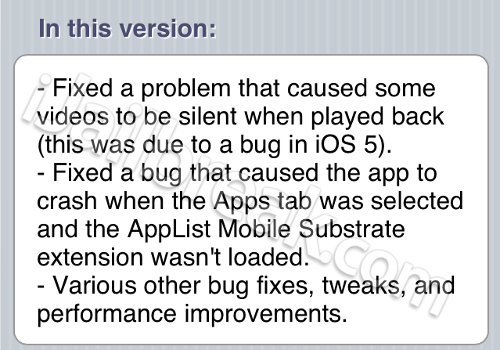 As we mentioned last week, Universal Video Downloader is available for free from the BigBoss repository. Just search for the utility on Cydia.
Have you noticed any other issues with Universal Video Downloader? Share your thoughts in the comments section below.