Would you like to add some sweet options to your iOS notifications, like reminders?
Finally, after a year in the making, Abstergo was finally released today in Cydia via the BigBoss repo. Both Andrew Richardson and Joshua Tucker have collaborated before with Merge, but they did it again bringing this concept to life. Andrew Richardson has created tweaks like JukeBox, and Passit, while Joshua Tucker has developed other tweaks such as CallBar, Reveal, Emblem and Crescent.
Abstergo brings some nice ways of managing your iOS notifications. Some of them include adding notifications back to the Lock Screen, clearing out all the notifications that are displayed on the Lock screen, clearing individual notifications, and setting reminders for your notifications.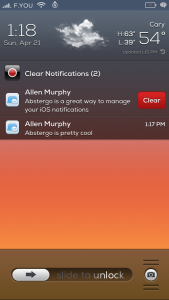 As pictured above Abstergo allows you to clear all the notifications from the lock screen. Users can accomplish this by dragging down on the lock screen when you have more than one notification on the screen and then they can slide the notification icon to the right to clear out all the notifications. In addition, the tweak allows you to clear individual notifications by using swipe gestures.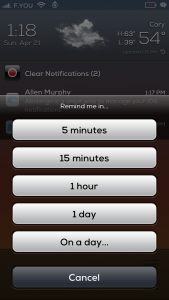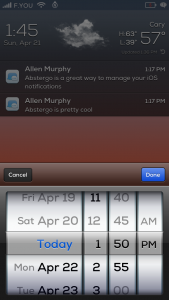 Another aspect of Abstergo is the ability to set snooze reminders for your notifications. This is accomplished by using a tap an hold method on the notification in either the lock screen, the Notification Center or by selecting individual messages within the messages app or biteSMS. Users have five options to choose from which can set anywhere from a 5 minute reminder all the way up to selecting a day and time you would like to re-receive the notification. When the time elapses the notification will appear as if you received the notification for the first time.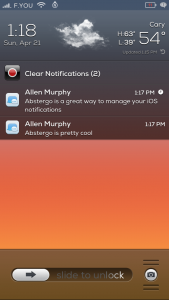 Abstergo will place a clock icon to the right side of the notification letting you know that particular notification has been setup with a reminder. As stated before, users can apply reminders to notifications from the Notification Center. Once you have setup a reminder you can add or remove the notification from the lock screen, re-edit, clear or find out what time the reminder is scheduled for by using the tap and hold gesture. In addition, users can use the tap and hold method on a banner as well.
Abstergo also has a preference panel in the Settings app, but its only there to contact the developers. The tweak is available for $1.99 in Cydia. If you're looking for a little flexibility for your notifications I think you will be happy with Abstergo. Let us know what you think of the tweak in the comment section below.