ARM powered tablet computers have only been in the mainstream for a short period of time and we're already seeing tablets replace our laptops and desktop computers for our everyday tasks (and, hey, they're more energy efficient). As we rely more and more on tablets, at iJailbreak we like to see tweaks that bring the desktop experience to our new favorite screens, such as Quasar, Safari Download Enabler, and Bridge. The latest offering on our desktop-experience list is Emblem, a tweak which brings desktop-style notifications to the iPad.
With Emblem, notifications appear in corner of the screen in stacks that you can swipe through. These notifications can be easily dismissed with gestures, for example by dragging a notification off screen.
Where Emblem really shines is if you set your Notifications to Alerts instead of Banners in settings. Normally Alerts are pop up dialogs, the annoying messages that showed up before Apple introduced a proper notification handling system. With Emblem enabled, Alerts appear like Banners with buttons to close the alert or launch the associated app. It's a more intuitive approach which takes better advantage of the iPad's screen real-estate.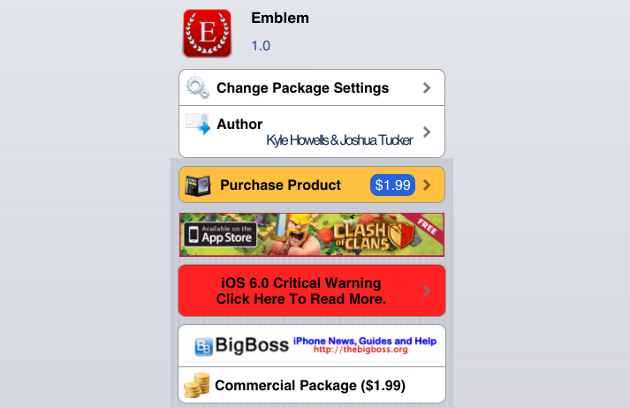 Emblem is one of the three big Cydia tweaks that launched at the World Wide Jailbreak Conference, alongside Scale and Merge, and is now available to download. You can find Emblem on sale for $1.99 in the BigBoss repository on Cydia.
Share your thoughts in the comments section below.