Yesterday we told you that the CLI (Command Line Interface) version of Pod2G's iOS 5.1.1 Untethered Jailbreak was released in the form of cinject 0.5.3. Now for a lot of people using a command line tool may seem like a waste of time when there is already a nice GUI (graphical user interface) for Pod2G's iOS 5.1.1 Untethered Jailbreak.
The reason why one may want to use the command line version however is if he/she wishes to have more control over the Jailbreaking process. Additionally, it can also be useful for debugging errors you might be experiencing while trying to Jailbreak your iPhone, iPod Touch or iPad with Absinthe 2.0. If you have been having troubles Jailbreaking with Absinthe then I highly recommend you give cinject a try. As such, in this how to guide you will learn how to Jailbreak your A5 or A4 iOS device with cinject 0.5.3 on Mac OS X.
Note: The process is the same for Windows users.
A5 iOS devices include: 
The New iPad (iPad 3)
iPad 2
iPhone 4S
A4 iOS devices include:
iPhone 4
iPhone 3GS
iPod Touch 4G
iPod Touch 3G
iPad 1
Apple TV 2G
Cinject 0.5.3 Mac OS X Tutorial
Step 1) – The first thing you will need to do is download cinject 0.5.3 from the iJailbreak Downloads Section or from the direct download link below.
Download CLI (cinject 0.5.3)
Step 2) – Extract cinject-0.5.3 if it has not been done for you automatically and move the folder into the Applications directory.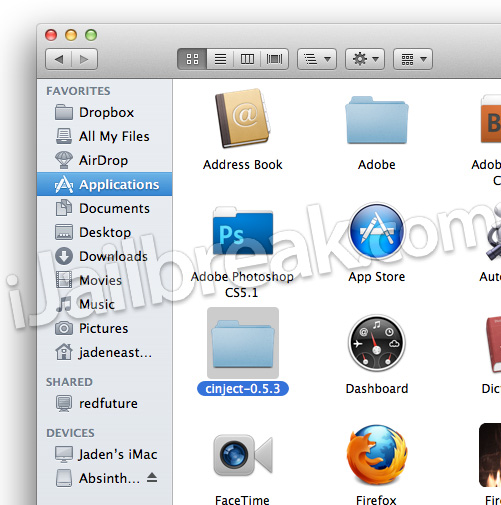 Step 3) – Now you will need to launch Terminal by going into the Utilities Folder (present inside the Applications directory you should already be in) and double click the Terminal shortcut.
Step 4) – With Terminal up and running simply plug in your A5 or A4 iOS device to your computer. Once your iOS device is plugged into your computer you will need to enter the command shown below:
/Applications/cinject-0.5.3/cinject -Y /Applications/cinject-0.5.3/payloads_rocky
Step 5) – After you enter the command above you will start seeing output on your Terminal window and your iOS device should look like it is being restored. This is normal and you should not touch your iOS device or computer until the Jailbreaking process is complete.
Troubleshooting Tip: If you are experiencing an error like "bus error: 10" then I would suggest restarting your computer and switching the USB ports that your iOS device is connected to. For those still having troubles, launch Terminal and type in "sudo killall usbmuxd" and then the command to Jailbreak your iOS device. My last bit of advice for those struggling would be to do a clean install of the iOS 5.1.1 firmware.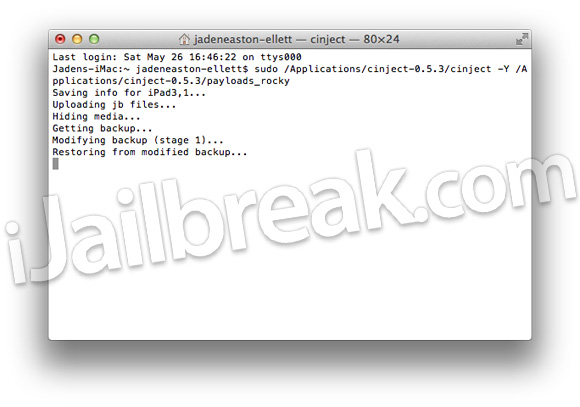 Once your iOS device reboots into a usable state you will simply need to slide-to-unlock and then tap the new Cydia icon that should be on your SpringBoard (homescreen). Upon doing this Cydia will organize its filesystem and you can start enjoying the benefits of owning a Jailbroken iOS device.
Congrats! Your A5 or A4 iPhone, iPod Touch or iPad is Jailbroken on the iOS 5.1.1 firmware Untethered using the Mac OS X version of cinject 0.5.3. If you have any further questions or thoughts please leave them in the comments section below.