Filippo Bigarella released a tool called StifleStand earlier today that will allow non-Jailbroken iOS devices to hide the Newsstand app in a folder. Before Bigarella created StifleStand it was not possible for those who owned a non-Jailbroken iPhone, iPod Touch or iPad to put the Newsstand app in a folder to conceal it. Now that it is possible however, in this tutorial we will cover using StifleStand to hide the Newsstand app in a folder on your non-Jailbroken iPhone, iPod Touch or iPad.
How To Hide iOS Newsstand App With StifleStand
Step 1) – The first thing you will need to do is download StifleStand. You can go to the iJailbreak Downloads Section to do this or use the direct download link below. Keep in mind that at this time StifleStand is a Mac OS X application only.
Download StifleStand[Mac OS X]
Step 2) – Next you will need to launch StifleStand. Keep in mind that on OS X 10.8 Mountain Lion you will need to first hold control and click the StifleStand app, followed by clicking the Open option to get past Gatekeeper.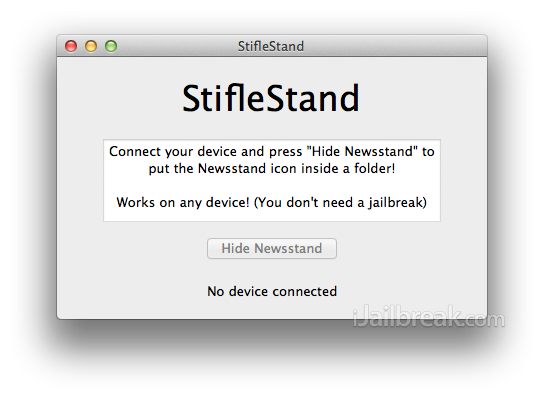 Step 3) – With StifleStand open you will need to simply connect your iPhone, iPod Touch or iPad through USB. StifleStand should now recognize your device, and when this happens simply click the Hide Newsstand button.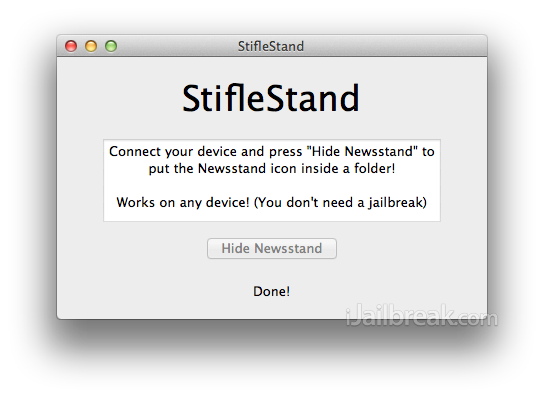 Step 4) – Upon clicking this button you will be prompt with a done message, and if you unlock your iOS device you should see the Newstand app is now in a folder called Magic.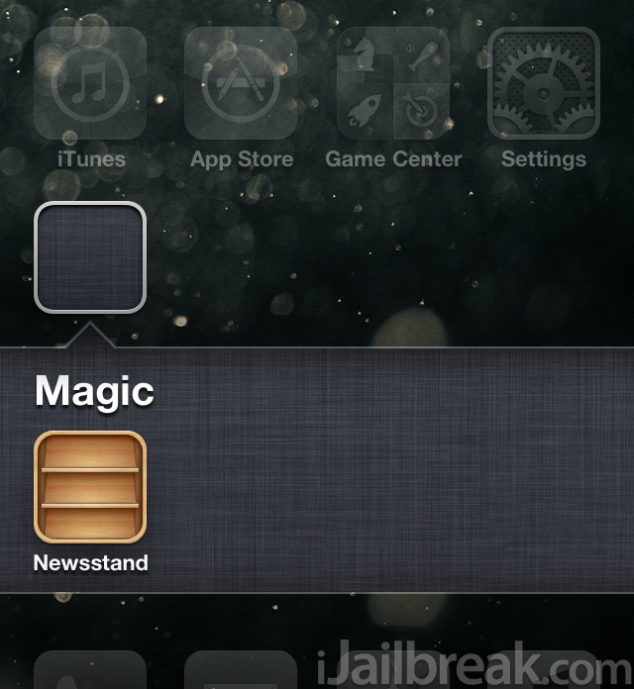 Keep in mind that if you try to open the Newsstand app while it is in the folder, you will crash the SpringBoard and you will go back to the Lockscreen. Additionally, you cannot move the Newsstand app out of the folder and into another folder. You must keep the Newsstand app in the folder that was created for you, but you can change the folder name and add other apps to that folder. And obviously to regain the functionality of the Newsstand app simply move it out from the folder.
If you have any further questions or thoughts please direct your attention to the comments section below.