Despite how well you may try to take care of your iPhone, one problem that has always seemed to effect iPhones and really any iOS device in general is the home button becoming unresponsive. If you are still covered under warranty then obviously this is not such a big issue, but for those of you out of warranty you have one of two options.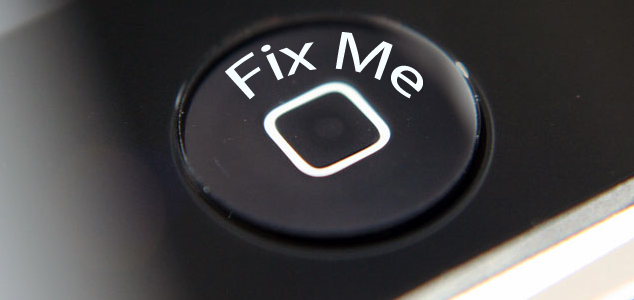 You can either dish out the money  to get the home button repaired or you can try to fix the home button yourself. CNET has recently shared four possible solutions to fix an unresponsive home button and as such we thought we would share them with you.
WARNING: iJailbreak is not to be held responsible if you damage your iOS device by improperly following these solutions. Proceed at your own risk.
Re-Calibrate Your Home Button
In some cases an unresponsive home button can actually be to do with an iOS (software) glitch. This is the best-case scenario because it can be solved with a simple re-calibration of the home button.
To do this simply open a stock iOS app like the Maps app, and then hold down the sleep button until the "slide to power off" slider appears. When this happens let go of the sleep button and quickly hold down the home button. If you did this correctly the app should close in about 5-10 seconds and this means your home button has been re-calibrated.
Let's Get Clean
Perhaps one of the easiest fixes for an unresponsive home button is to clean it using 98-99 percent isopropyl alcohol. This can be found at any hardware store.
Simply apply 2-3 drops of isopropyl alcohol to the home button, and use a cotton swab or eye dropper to spread it around the home button. Then take a narrow and dull object (like the eraser on the back of a pencil) and repeatedly tap the home button so that the alcohol seeps into the frame. Once complete wipe any excess alcohol off and let it dry for 10-20 minutes before testing to see if it worked.
Re-Align The Docking Port
If you have come to the conclusion that your unresponsive home button is not due to a software glitch, then it means there is something wrong with the actual hardware itself. One possible reason that your home button is not working is because the docking port has become misaligned, which in-turn moved the home button.
It has been suggested that plugging your 30-pin adapter into your iPhone, and gently applying downward pressure to the adapter so that it pushes up behind the home button can solve the problem. As you are pressing down on the 30-pin adapter though you will want to click the home button a few times, remove the adapter and finally see if your home button is functional again.
Getting Virtual
The last solution is more of a last-resort effort to still make your iPhone or other iOS device functional without a working home button. Either until you can get it fixed or can upgrade to a new device.
Apple has actually created something called an on-screen home button that can be enabled in the Accessibility settings. This will act as a virtual home button that upon being tapped gives you four options: Home, Siri, More, and Favorites. In order to enable this on-screen home button go to Settings > General > Accessibility > Assistive Touch and turn on Assistive Touch.
Hopefully you have found these solutions helpful in fixing your unresponsive home button. If you have any further questions or additional tips please turn your attention to the comments section below.