About a week ago we showed you in a video what the new 3D Maps application would look like on the new iPad running the iOS 6 firmware. While the new 3D functionality and turn-by-turn directions is truly amazing to say the least, it is limited to the iPhone 4S and new iPad. Meaning that even though the iPhone 4, iPhone 3GS, iPad 2 and iPod Touch 4G can run iOS 6, they will not have all of the same functionality.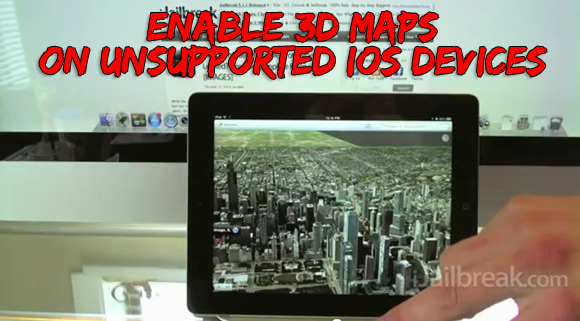 If this disappointed you and you would like to regain some of this lost functionality on your older generation iOS device, then you will be glad to know there is a tweak available that can enable 3D maps on your iPhone 4, iPhone 3GS or iPod Touch 4G. As such, in this guide you will learn how to enable 3D maps on your unsupported iOS device.
Enable 3D Maps On Unsupport iOS Devices
Step 1) – The first thing you will need to do is Jailbreak your iPhone or iPod Touch running iOS 6 beta 1 with RedSn0w 0.9.13dev1 for Mac OS X or Windows. You can download RedSn0w 0.9.13dev1 from the iJailbreak Downloads Section.
Step 2) – Now due to the fact that this iOS 6 beta 1 Jailbreak does not install Cydia, you will need to do this manually. Click here to follow a guide on how to install Cydia on your iPhone or iPod Touch running the iOS 6 beta 1 firmware.
Step 3) – With Cydia now installed you will need to launch Cydia and add the following source:
http://rpetri.ch/ios6/
Step 4) – Once the source shown above has been added search for Unlock iOS 6 Maps and install the package to your iOS device. Once the package has been installed either respring your iOS device or kill the maps application in your multitasking bar and you should now see the 3D button appear when using the new iOS 6 maps app.
Note: This tweak only enables 3D maps, not turn-by-turn directions.
Congratulations! You have just enabled 3D maps on your unsupported iPhone or iPod Touch running iOS 6 beta 1. If you have any further questions or thoughts please direct your attention to the comments section below.