Are you an owner of the Samsung Galaxy Ace S5830 and are experiencing your device getting stuck while you reboot into recovery or download mode? Well, your worries are now over, as a new all-in-one package was released by XDA Developers' member brijeshep. This new package is also a solution if your device gets bricked while using Odin.
Before moving onto the tutorial, there are few pre-requisites that you need to know about. Firstly, this guide is only for Samsung Galaxy Ace S5830 and may lead to damages if used on any other model or Samsung handset. You should charge the battery of the device properly before starting with the actual tutorial. A backup of all the important files on the device is recommended as well. Finally disable any security software that is capable of accessing the device as it may interfere with the installation process. Don't forget that you are following these instructions at your own risk.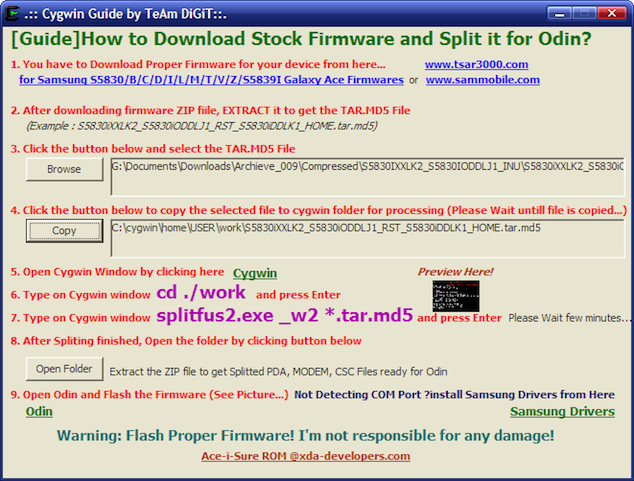 Instructions
Step 1: Download the Galaxy Ace Tool package, and extract it to any preferred folder on your PC.
Step 2: Open the tool package and search for another extracted file that has a '.tar' extension. Next, click the button that says 'copy' and launch the Cygwin window.
Step 3: In the newly launched Cygwin window, enter 'cd./work' as a command and select Enter. Next, type 'splitfus2.exe_w2*tar.md5' and select Enter, and allow for the processing to commence.
Step 4: After the process is complete, click on 'open folder' and launch Odin. In Odin, select the button that says 'PDA' and go for the flashing process. On-screen instructions will also be presented.
Step 5: After the process is complete, Odin is going to display a 'PASS' message. If no such message appears, take out the battery and reinsert it again so that the device is rebooted into normal mode.
You've unbricked your Galaxy Ace phone. Feel free to leave comments if you have any further questions.