The jailbreak tweaks have already started flowing for the iPhone 4S and Siri! Thus, I would be surprised if you have not already Jailbroken your iPhone 4S untethered. But in case you have not had a chance yet, you can follow our tutorial on how to jailbreak the iPhone 4S with Absinthe by clicking here. Once you have jailbroken it, you will definitely want to try out some cool new Siri specific tweaks. In fact, here's one that you should try!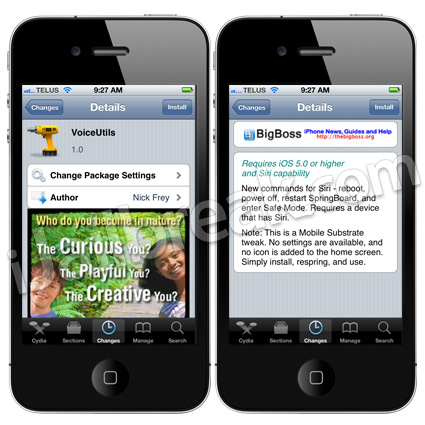 VoiceUtils is a Cydia tweak that enables use of Custom Siri commands to perform actions like respringing, rebooting, shutting down and entering safe mode. That's all it can do now, but it's pretty awesome. You can say a command like restart SpringBoard and Siri will respring your iPhone 4S for you. If you want to make this tweak even better, we would recommend you try the Hands-free control Cydia tweak with VoiceUtils.
The VoiceUtils tweak is currently available in Cydia from the BigBoss repo for FREE and works only on the jailbroken iPhone 4S. Additionally, in case you have got Spire working on your iPhone 4, you can also try it on that! Let us know what you think of the VoiceUtils Cydia tweak in the comments section below.