Yesterday we told you that hacker and developer Steve Troughton-Smith was beta testing the "coolest" Cydia tweak being created by Chpwn. If you remember this article then you will also remember we asked you what you thought this Cydia tweak could be. Well, for all of you that guessed a port of Siri to older models of the iPhone, iPod Touch and iPad, you were right!
Hackers Chpwn and Ryan Petrich have released a new Cydia tweak that can legally install Siri to your iPhone, iPod Touch or iPad running the iOS 5.0 or iOS 5.0.1 firmware. This legal Siri port is called Spire and provides a stable way of installing Siri to older models of the iPhone, iPod Touch and iPad (unlike the H1Siri Cydia tweak, which was unstable and buggy). Although the Spire Cydia tweak is a complete port of Siri for older models of the iPhone, iPod Touch and iPad, access to an iPhone 4S is still required. This is because Apple still requires authorization to use Siri, thus you need to use a SiriProxy Fork, where you can setup a proxy using your own iPhone 4S (or a friends) to insert the needed information fairly easily.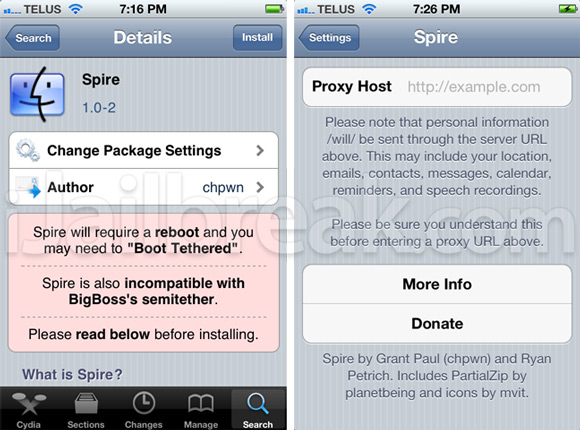 Chpwn explains on his blog that the reason the Spire Cydia tweak is a legal port of Siri is because Spire uses a different method to obtain the necessary files for Siri (they are downloaded directly from Apple). If you would like to download and install Spire to your iPhone 4, iPhone 3GS, iPod Touch 4G, iPod Touch 3G or first generation iPad then simply navigate to Cydia and find Spire in the Changes tab.
Note: The Spire Cydia tweak uses about 100 MB of data, so please connect to Wi-Fi before installing.
We will have a How To guide on how to install Spire to your iPhone, iPod Touch or iPad in the near future so stay tuned. Additionally, don't forget to share your thoughts in the comments section below and follow us on Facebook, Twitter or Google+ for more updates if you have not already.
Hit the Facebook LIKE button if you would like to know when a free Spire Proxy Host or Siri Proxy Server is released.
Update #1: Learn how to download and install the Spire Cydia tweak to your older iPhone, iPod Touch and iPad now. Click here to follow this guide.
Update #2: As soon as free Siri Proxy Hosts become available we will list them on our official Siri Proxy Host List.
Update #3: Learn how to make your own Siri proxy server/Spire proxy server in our new detailed how to guide by clicking here.