This tutorial explains the jailbreaking/unlocking process for both the iPod Touch and the iPhone. It will work with all generations running the 3.1 firmware up to the 3.1.2 firmware. Meaning this tutorial will work with the iPod Touch 1st Gen, iPod Touch 2nd Gen and the iPhone 2G, iPhone 3G and the iPhone 3GS.
**The iPod Touch 3rd Gen is supported but only as a tethered jailbreak at this time. This meaning that every time your iPod Touch 3rd Gen is rebooted or crashes you will need to plug it back into your computer.
**The iPod Touch models beginning with the model number MC will be a tethered Jailbreak.
**BlackRa1n now supports unlocking for the iPhone 3G and 3GS once jailbroken, click the BlackSn0w icon to unlock your iPhone.
This tutorial will update when necessary. Use at your own risk.
How To Jailbreak 3.1 – 3.1.2 Firmware
Jailbreaking the iPhone and iPod Touch is a fairly straightforward task, and if you follow this tutorial completely you should have no errors whatsoever. As always before we begin our tutorial we are going to review the proper requirements needed for your jailbreak to be successful. If you do not meet these requirements then your jailbreak will not work; follow the help instructions for more information…
If you meet all the requirements above we are ready to begin jailbreaking our iPod touch and iPhone
Step 1) – The first thing we're going to do is download the jailbreaking application called Blackra1n.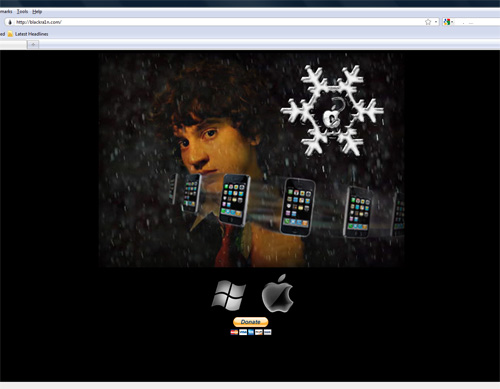 Once you click your designated operating system logo, click Save File.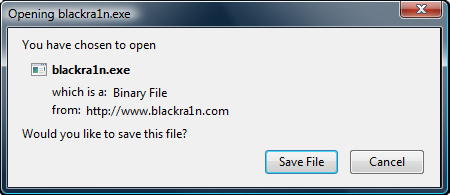 Step 2) – When BlackRain is downloaded do not launch it yet! The first thing we are going to do is transfer blackra1n to our C:/ Drive or your Root Directory if you are on a Mac.
**Note: On Windows Vista a prompt box will appear saying you must provide Administrator permission to move this file. Just press continue and then press continue again when the second prompt box appears.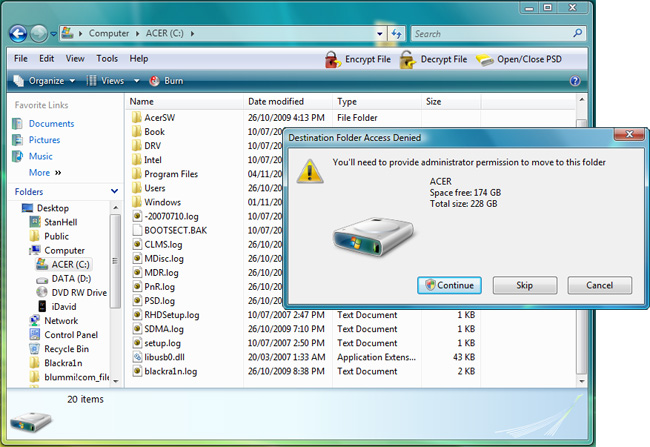 Step 3) – We are almost ready to begin jailbreaking/unlocking our iPhone, iPod Touch but before we launch BlackRa1n we are going to go into our Task Manager and disable a couple of iTunes Services to prevent any unnecessary errors. If you are on Windows press CTRL > ALT > DELETE, and once your task manager has been launched were going to disable the following services MDNS RESPONDER and ITUNES HELPER.
**Note: If you are on Mac you can skip this step.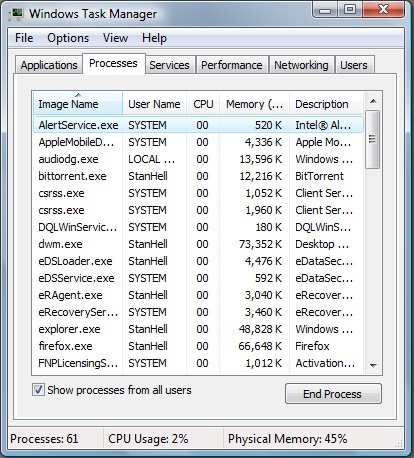 Step 4) – With the services stated above we are now going to launch BlackRa1n. A dialog box will pop up saying are you sure you want to run this software press Run. With BlackRa1n launched we are going to plug in your iPhone or iPod Touch; if you haven't already. (Sometimes I find the back USB ports on the back of your computer seem to work better with BlackRa1n. Obviously if you don't have USB ports on the back of your computer don't bother but if you do I suggest you use the back USB ports if you have them). Make sure your iPod is On and NOT off and also make sure iTunes isn't running.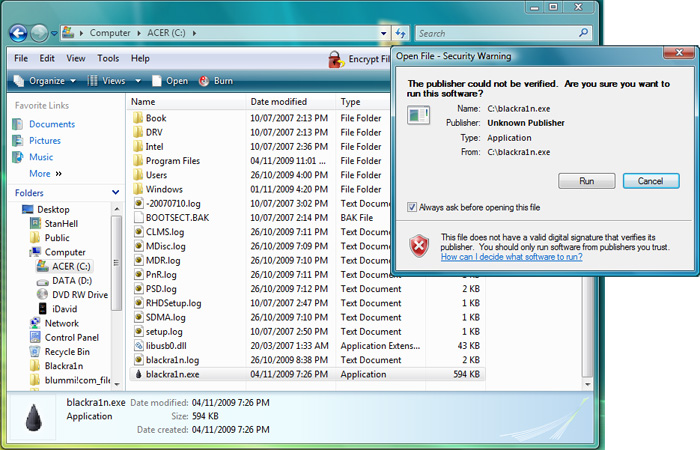 When you click the Run Button BlackRa1n should be up and running and look like the screenshot below…
Step 5) – We are now going to begin our jailbreaking/unlocking process! Click the Make it Ra1n button and the jailbreaking process will begin. You should see your iPod Touch, iPhone go into Recovery Mode and then you should see the BlackRa1n logo. If everything worked a message should pop up like the screenshot below saying your jailbreak is now finished. Give your iPod Touch, iPhone up to 5 mintues or more to reboot.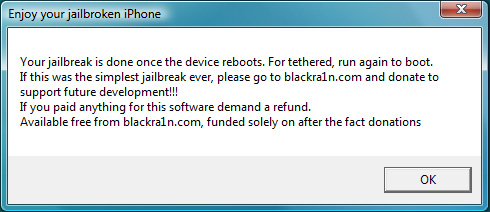 When you press Ok, you should be left with the screenshot below. You can now exit BlackRa1n and wait for your iPod Touch, iPhone to reboot…

Step 6) – When your iPod Touch, iPhone has rebooted you can now click the BlackRa1n app on your SpringBoard. You will have the following options; install Cydia, Rock and also BlackSn0w (if you are on an iPhone). Click install Cydia and its optional if you want to install Rock or not. Congratulations wait for you iPod Touch/iPhone to respring and your jailbreaking process is complete.
**Cydia is the default 3rd party installer, always install this. Rock is a more commercial installer that hosts mostly paid apps and themes installation is optional.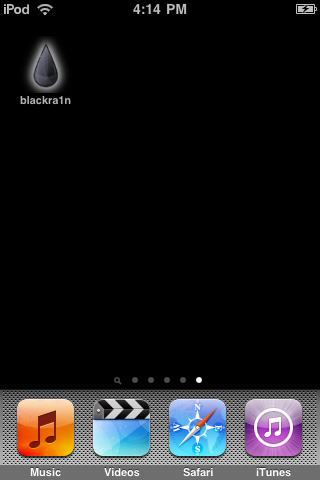 Click the BlackRa1n app on your SpringBoard and you should see the following…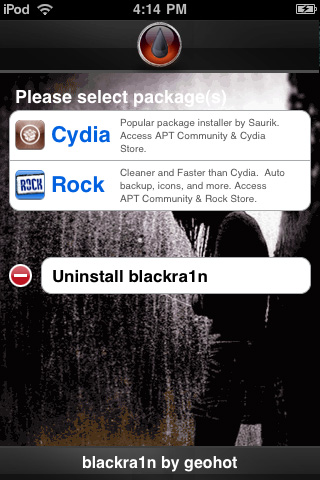 When you are done installing Cydia and or Rock you can uninstall the BlackRa1n app by hitting the uninstall button.
Unlock iPhone 3G And iPhone 3GS
If you want to unlock your iPhone go back into the BlackRa1n app on your SpringBoard and click the BlackSn0w option. When you click BlackSn0w simply wait for it to unlock your iPhone then respring and you have just successfully unlocked your iPhone.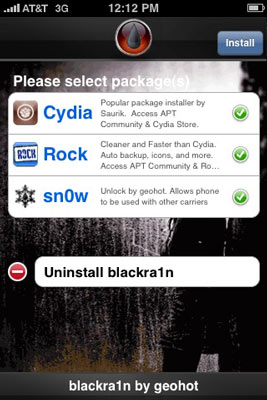 For iPhone 2G users wanting an Unlock
If you are running the iPhone 2G and want to unlock your iPhone, launch Cydia and type in BootNeuter into the search panel. When BootNeuter is downloaded apply the settings according to the screenshot below. When you have to settings like the screenshot below hit the flash.
**Note: this could take awhile please be patient and do NOT cancel this process under any circumstances. Once your iPhone 2G has been flashed you have now successfully unlocked it!
BlackRa1n isn't as stable as RedSn0w so there are going to be many more errors you may experience. The number one rule here is keep trying and if your jailbreak fails switch USB ports and try again. It has taken me up to three tries for BlackRa1n to work, so persistence is key. Make sure you comment if you have any questions!