Apple releasing the iOS 5.1.1 Build 9B208 firmware for the (GSM) iPhone 4 was a good reminder to save your SHSH blobs for the iOS 5.1.1 firmware while you still can. It is no doubt Apple will be readily trying to patch the Absinthe 2.0 exploit used to Jailbreak the iOS 5.1.1 firmware Untethered and as such we are sure to expect iOS 5.1.2 in the coming weeks (possibly days).
As such we recommend all those that haven't already to save your iOS devices SHSH blobs with a tool like TinyUmbrella. I know it is easy to put something like this off, but for the 5-minutes or less it will take you it really is worth your time. It could save you a serious headache in the future, and remember… even the most experienced still slip up every now and again.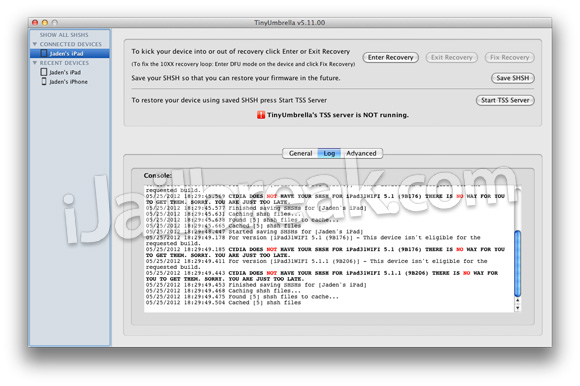 You can head on over to the iJailbreak Downloads Section and download the latest version of TinyUmbrella for your Windows or Mac OS X computer. For those of you who would like a helping hand saving your SHSH blobs or would like a better explanation of what this is exactly, please head on over to our Saving SHSH Blobs/Downgrading section. You will learn a lot by following/reading through these how to guides (even if they are slightly outdated).
Did you save your iOS 5.1.1 SHSH blobs? Please leave your responses and any further thoughts or questions in the comments section below.