If you have been to this website before, you would have taken a look at saving your SHSH blobs for the iPod Touch, iPhone or even iPad. Now however, that we know the new Apple TV can be jailbroken (as it runs a modified iOS4.1 firmware) with SHAtter, it is going to be important to do the same thing with your Apple TV.  In case you do not know what saving your SHSH Blobs actually does, it basically will allow you to downgrade your firmware to a lower version. This is important if you accidentally update to a firmware version that cannot be jailbroken, as Apple prevents this otherwise.
Note: It is not known, whether or not you will be prompted to update your firmware on the Apple TV, or if it will be carried out automatically. This makes it even more important to save your SHSH blobs for your Apple TV, so you can easily downgrade if necessary.
Saving your SHSH blobs on Apple TV
Step 1) – The very first thing you will need to do to save your SHSH blobs on your Apple TV, is download.
Download TinyUmbrella Now! (Mac, Windows and Linux)
Step 2) – Once you download TinyUmbrella to your desktop you will need to launch it. Once it is up and running, you will need to connect your Apple TV to your computer with your microUSB cable.
Step 3) – Once it is connected to your computer (ensure iTunes is not running), select the Advanced Options bullet and your ECID number should be displayed (this is a unique identification number). Once you ensure your ECID number is displayed, make sure that you select the Cydia option from drop down list (as displayed below).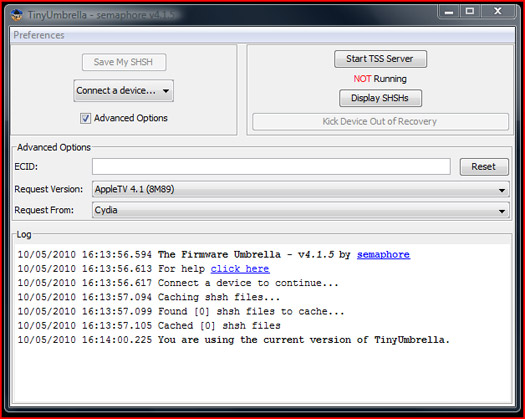 Step 4) – Now all you need to do is click the save my SHSH button and TinyUmbrella will begin saving your SHSH Blobs for your Apple TV. (it takes around 4-5 seconds ).
Congratulations you have now saved your SHSH blobs for your Apple TV, and can now be worry free if anything goes wrong!