Apple released iOS 6.1.1 beta 1 to developers yesterday, which added improvements to Maps in Japan. iOS 6.1 was only released about 9 days ago (at the time of writing this article), so this is rather quick of Apple. Maybe they were trying to fix the Evasi0n untethered jailbreak for iOS 6.x that was released just 2 days before Apple seeded iOS 6.1.1 beta 1.
Well, as it turns out, that is not the case. Apple hasn't patched the untethered jailbreak in iOS 6.1.1 beta 1, says one of the members of Evad3rs, Pod2g. In a recent tweet, the hacker confirmed that iOS 6.1.1 beta 1 can be jailbroken and no security holes have been fixed. He also asks developers not to upgrade because Evasi0n still does not let you jailbreak. Perhaps Apple is still trying to figure out how the Evad3rs managed to break through their iOS security.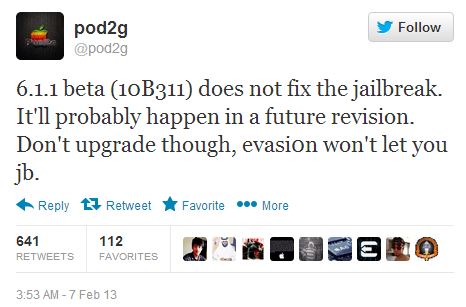 Pod2g also mentions that Apple will most likely fix the jailbreak in a future release of iOS, maybe iOS 6.2. That is very much possible, but for now, you can enjoy an untethered jailbreak on iOS 6.x and download all the tweaks you like from Cydia. Make sure you don't update to iOS 6.1.1 beta 1 if you want to remain jailbroken though.
If, however, you're a developer living in Japan, then you can upgrade and try out all of the new improvements with Maps. You could always downgrade if you listened and backed up the iOS 6.1 SHSH blobs from Cydia.