If you are like me you probably find that your Cydia tweaks begin to add up after awhile. At first you only install the bare essentials, but as new Cydia tweaks are released you tend to install them to try them out. Half the time you probably even forget about them and are too lazy to remove them. It was only the last week or so that I started notching all the Cydia tweaks I had installed were effecting my  iPhone's performance. So I thought to myself "how can I remove all of my Cydia tweaks and start fresh again without having to restore my iOS device?" After thinking for a few minutes I realized that as 99% of Cydia tweaks have Mobile Substrate as a dependency, thus if I simply remove Mobile Substrate all of the tweaks I have installed will be removed to.
Obviously this isn't rocket science, but I am sure there are people out there that would have not considered this shortcut and would have removed them by queuing them all together and doing a mass uninstall. As such, in this how to guide from iJailbreak.com you will learn how to remove all of your Cydia tweaks at once to speed up your iPhone, iPod Touch or iPad without the need for a restore.
WARNING: I used this method without any troubles to remove all of the Cydia tweaks on my iPhone. By the looks of some of the comments however, removing Mobile Substrate has caused problems. Thus, I would recommend backing up any precious content before following this guide.
How To Remove All Cydia Tweaks At Once
Step 1) – The first thing you will need to do is launch Cydia from your SpringBoard (homescreen).
Step 2) – With Cydia up and running go into the Manage tab and tap the Packages section.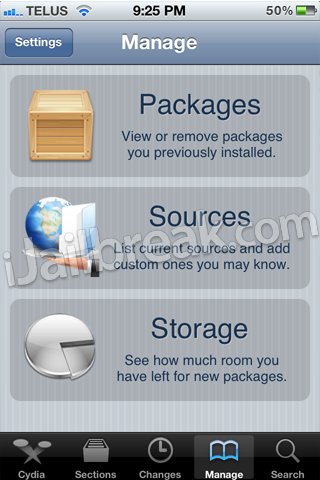 Step 3) – Scroll through the list of currently installed Cydia tweaks until you see Mobile Substrate.
Step 4) – Tap on Mobile Substrate, and then tap on the Modify button.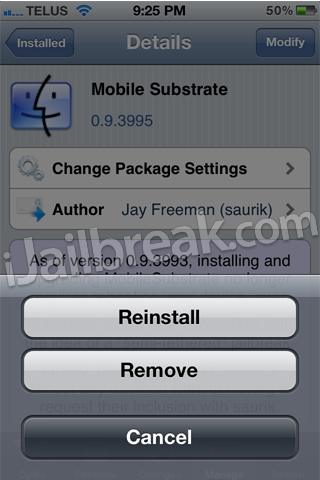 Step 5) – Finally tap on the Remove button, followed by the confirm button on the next page.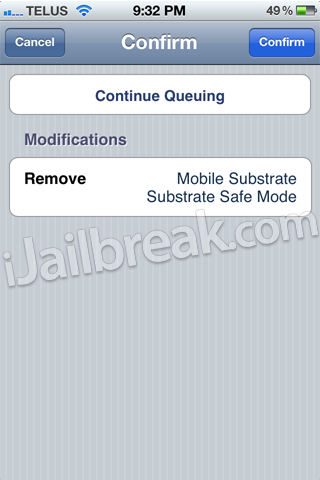 Step 6) – Respring your iOS device once you are prompt to and all of your Cydia tweaks will now be removed.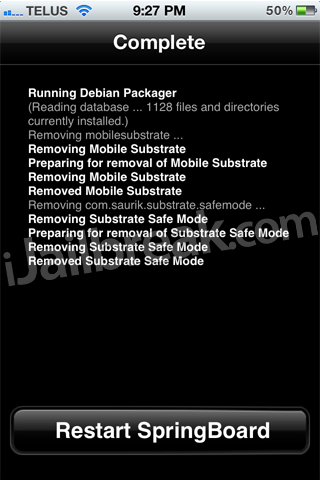 As I mentioned previously this will work with 99% of the Cydia tweaks you currently have installed on your iOS device. If you still notice others that have stuck around you will need to remove them on by one. Do you have any further questions or thoughts? Please leave them in the comments section below…