Notice
: Undefined variable: dd_override_start_anchor_id in
/home/ijailbre/public_html/wp-content/plugins/digg-digg/digg-digg.php
on line
351
Notice
: Undefined variable: dd_override_top_offset in
/home/ijailbre/public_html/wp-content/plugins/digg-digg/digg-digg.php
on line
352
The hot topic this last week has without a doubt been Siri. Siri is a revolutionary piece of technology created by Apple that will serve as your very own personal assistant. Lately, however, we have been hearing users reporting that they are getting problems with Apple's Siri service. The problem lies when you ask Siri to carry out a task and Siri will reply with "Sorry, I'm having trouble connecting to the network."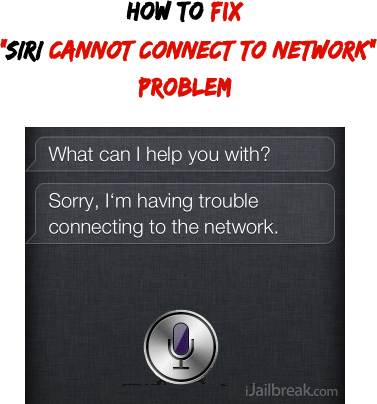 If you have received this error using Siri and cannot get Siri working on your iPhone 4S, you will be glad to know a very quick fix has been discovered.
How Do I Fix Siri Not Connecting Error?
If you are having troubles getting Siri to work on your iPhone 4S and cannot connect to a network you can follow the steps below to hopefully fix this problem.
Step 1) – Launch the Settings.app from your SpringBoard and go into the General tab then tap disable Siri.
Step 2) – Exit the Settings.app by pressing the home button and turn your iPhone 4S off.
Step 3) – Turn your iPhone 4S back on and re-enable Siri.
After following the steps above to fix the Siri not connecting problem you should notice Siri is once again working. If Siri is still not working you can try the optional step shown below.
Optional Step) – Launch the Settings.app, go into the General tab followed by the Reset tab and tap the Reset Network Settings button.
Let us know if the steps above have gotten Siri functioning again on your iPhone 4S in the comments section below…