Surprisingly it looks like the iOS 6.x Untethered Jailbreak actually has a time when it will be released. Some bright minds over on Reddit have discovered that the code powering the progress bar on Evasi0n.com is actually just JavaScript, which can be inspected by viewing the webpage's source code. The JavaScript algorithm created by the Evad3rs for moving the progress bar is set at a rate of 0.0090863/min. This means if you do the math, when the progress bar reaches 100%, it will be approximately 9AM PST or 12PM EST.
It looks like this is indeed the real release date of Evasi0n because Pod2G chimed in on Twitter sharing the Reddit thread and saying "LOL." Then when asked who came up with the idea, Pod2G said "the idea [was] a team discussion. I quickly wrote it for the fun."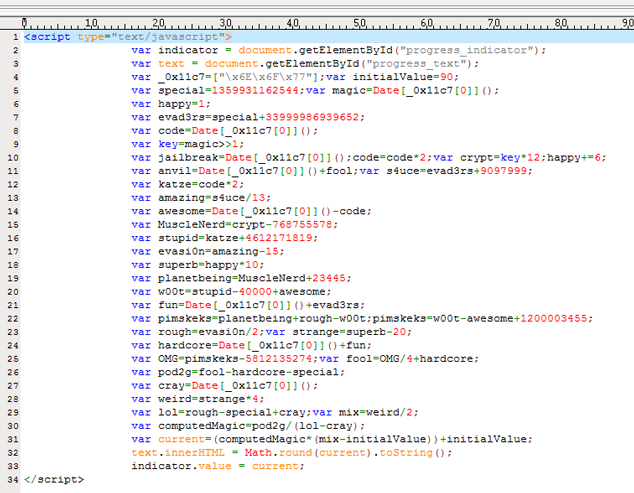 When you view the JavaScript code through Safari or Firefox it isn't formatted properly. I properly formatted it for you, so those of you with a basic JavaScript understanding will get a chuckle with how Pod2G coded the counter algorithm. Hats off to the individual who solved this algorithm, I wouldn't have a hope in hell doing it myself.
Anyways, we will be ready to go tomorrow at 9AM for the iOS 6.x Untethered Jailbreak and provide you up-to-the-minute coverage on everything that goes down. Stay tuned, and get excited!
UPDATE #1: Evasi0n now 99% complete!
UPDATE #2: The Evasi0n jailbreak tool has been released for Mac OS X, Windows and Linux, download now.
UPDATE #3: Learn how to jailbreak iOS 6 / iOS 6.1 on iPhone, iPad or iPod Touch with Evasi0n on Windows and Mac OS X by clicking here.
UPDATE #4: For fixing common errors with the Evasi0n iOS 6 / iOS 6.1 untethered jailbreak and Cydia, click here.