Today we have 3 tweaks that you absolutely won't want to miss. All 3 are free, but that doesn't take away from the fact that they are great tweaks. So check them out.
Those that enjoyed Ryan Petrich's Diet Bulletin Cydia Tweak in iOS 6 are going to love the new TinyBar Cydia Tweak. What this tweak does is shrink the banner notification bar so that it only takes up the height of the status bar. This makes notifications much less obtrusive and text will automatically scroll if there is more information than can be fit in the new banner notification.
There aren't any configurable options for the tweak; you simply need to add Zielenski's repo (http://repo.alexzielenski.com) to Cydia to install the free tweak. It works well on the iPhone 5S, according to several reports, as well. This tweak was developed by Alex Zielenski, behind other tweaks like Zeppelin.
MusicalSwitcher is one of those tweaks that, although it isn't really useful, it is just plain old awesome to have installed on your device to show off to your friends. What the tweak does is turn each of the App Switcher cards into piano keys, so when you swipe them down, a musical note will play (just as if they were keys on a piano).
You can still swipe up to dismiss any apps within the App Switcher, but now you have the added benefit of something happening when you swipe downwards rather than the app card simply bouncing back into position. You can find MusicalSwitcher on the BigBoss repo for free.
Spectral is a new Cydia tweak developed by Adam Bell that goes hand-in-hand with the BlurredMusicApp tweak. What this tweak does is make the album artwork take up the full background of the Lockscreen music display so rather than being simply a blurred blue background it will represent the color of the album artwork. In my opinion Apple should have done this by stock, as it looks great!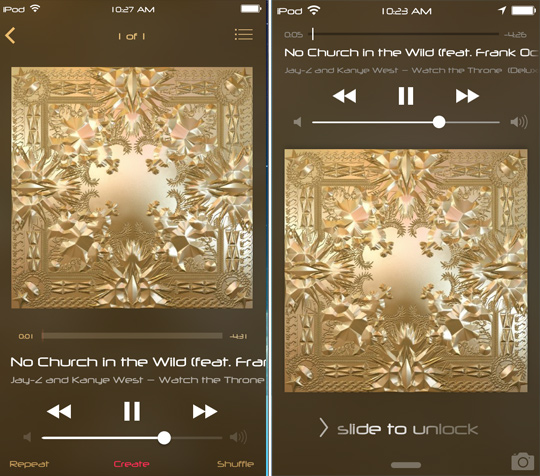 You can find Spectral for free in the BigBoss repo, along with BlurredMusicApp.