If you ever find yourself using a tether jailbreak, you usually want to find tweaks that prevent your friends from accidentally powering off your device. Luckily the Rocky Racoon jailbreak for 5.1.1 is untethered, which means you may be better off with tweaks tailored to your convenience. One such tweak is QuickPowerDown.
QuickPowerDown sounds like a lot of the "download to enable tweaks," but it actually needs to be enabled from Settings first. Just scroll down to the Cydia extensions section and look for QuickPowerDown.
The settings include an 'Enabled' on/off toggle, the developer's Twitter handle (@rv1raj), and a menu for actions to select on holding the lock button down. The actions are currently Power OFF, Reboot, Respring, and Safe-Mode. So if you want to, you can turn your lock button's power off setting into a Safe-Mode or Respring button, QuickPowerDown provides that option too. You don't need to reset after changing the settings, the changes are applied instantly. Just set QuickPowerDown to Power OFF and hold down the lock button.
You can find QuickPowerDown in Cydia under the ModMyi repository. The tweak is completely FREE, works on all iDevices, and supports iOS 5.x. The tweak seems to be stable on my iPhone 4, but if you notice any bugs, please feel free to mention them.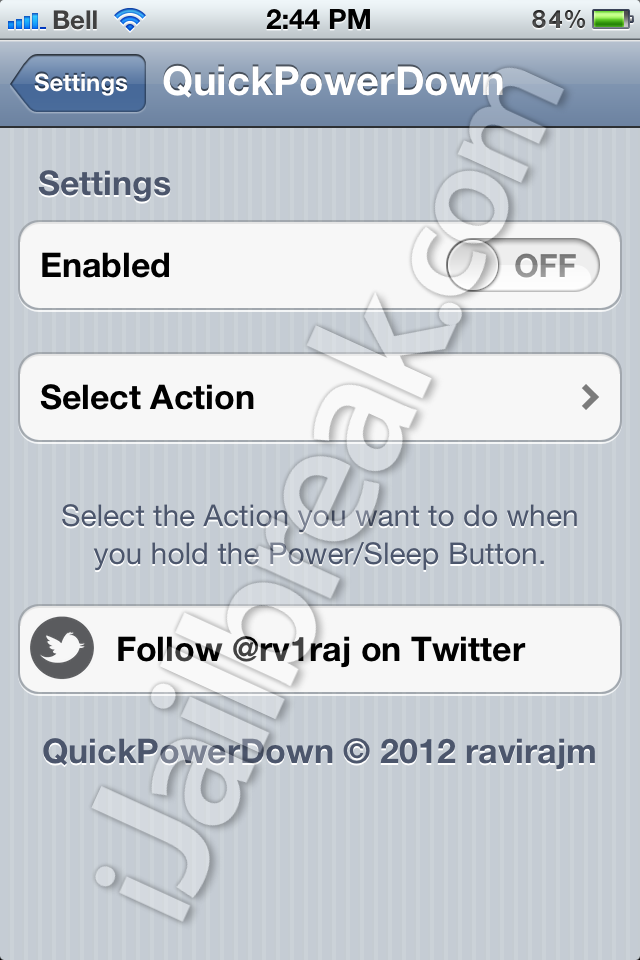 Which setting do you think would be most useful: Power Off, Reboot, Respring or Safe-Mode? You can share your thoughts on this tweak in the comments section below.