So fellow jailbreakers, you're messing about with your device, doing things Apple didn't design the phone to do – something is going to go wrong at some point, right? Wrong! Jailbreaking is very safe, however, there may be times where you feel a restore is necessary even if it's to just clear out unwanted files.
Head past the break for a guide on restoring, and the most common issues users' experience.
So, first is a simple guide how to restore, you're all clever readers but for some, this could be useful:
Connect your iPhone
There are two ways in which you could go about this:
1 – Connect your phone with it powered on normally and see iTunes recognise it.
2 – Something went wrong, at some point. Device is stuck at the 'Plug into iTunes' logo? Best you put the device in DFU mode to continue. Just follow these steps:
Plug your device into your computer and turn it off.
Hold the power button for 2 seconds.
Hold the power and home button for 10 seconds.
Release the power button but keep the home button pressed for 30 seconds.
You'll see this message popup on iTunes if you've done it correctly.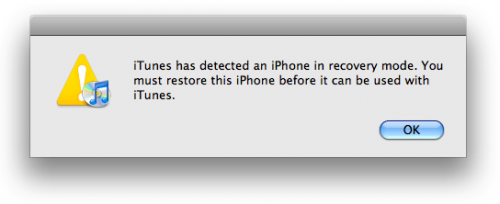 Restoring the phone
Make sure you've performed a full backup of the phone prior to doing this.
Highlight your device in iTunes and click on the restore button, shown below: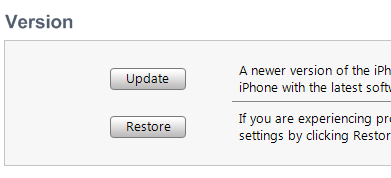 This will initiate the restore process, if you're not in DFU mode, it'll ask you if you'd like to make a backup of your device. We definitely recommend this.
After the backup is taken, select the Restore option when iTunes prompts you:
The Restore Process
So after the device has filled the progress bar it will restart and appear in iTunes. This is where I have had trouble before; every time I would try to restore, the progress bar would freeze in the same place every time about 5 mm from the end and the only way to restart this was to pull the cable. After some troubleshooting, it was because I had WiFi Sync installed on my computer which was stopping the restore process. Remove this, restart your computer and try it again and hopefully you'll see the following screen: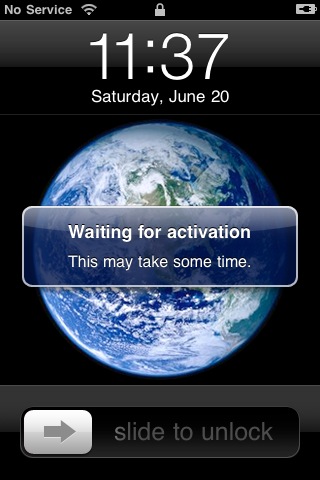 First Sync
Congrats, your iPhone is the cleanest it'll ever be! Now iTunes is going to ask you to restore from a backup, and here's where you need to be careful and select one of the following options depending on your circumstance:
1 – If your backup was of a jailbroken device and you plan to jailbreak again, go ahead and select the backup.
2 – If your backup was of a jailbroken device but you are not jailbreaking again DO NOT select the backup as it will restore some of your jailbroken files, such as modified celluar files etc. it may cause some issues.
3 – If your backup was from an unmodified device, select the backup to restore from.
4 – If your backup was from an unmodified device and you wish to jailbreak, select the backup.
That should all sync nicely and there you have your fully restored device.
Issues
If only life was this simple hey? Obviously you're going to have issues.
Trying to downgrade – Ensure you have 74.208.10.249 gs.apple.com specified in your Hosts directory.
iPhone Error 1603 – This is one of the most common iPhone error messages out there, and if you encounter iPhone error 1603 this is relatively easy to fix. You will usually encounter iPhone error 1603 when you are syncing your iPhone to iTunes. If you do see iPhone error 1603 then you should begin by restarting your computer and plugging in your iPhone to a different USB port. If you find that this does not resolve the iPhone error 1603 then you can easily just take out your SIM card and do a firmware update.
iPhone Error 1604 – Usually related to USB timing. Try changing USB ports. If you are using a dock, try bypassing it. Put your device in recovery mode if the error persists and restore from here. This error can also occur if you're trying to upgrade your software without the saved SHSH blobs saved, or if you've left Saurik's server in the Hosts file. Remove this and try again.
iTunes Error 11333 – The iTunes error 11333 is a common error message that can turn up on your iPhone, generally when you are trying to activate your iPhone with iTunes or use an older iTunes 7 version. If you are getting the iTunes Error 11333 message then you will really need to immediately update iTunes to iTunes 10, which it should have already been updated to.
iPhone Error 1015 – iPhone error 1015 is still a common iPhone error message, but not quite as common as iPhone error 1603. You will often see iPhone error 1015 when restoring your iPhone. What the iPhone error 1015 usually comes from is when you are downgrading the iPhone firmware for whatever reason, often associated with jailbreaking. The real way to repair the iPhone error 1015 is to upgrade to the most recent version of the iOS when you are restoring your iPhone, even if you originally wanted to downgrade the iPhone firmware.
If you have any other error codes that you have come across, let us know in the comments, or please post in the forums for assistance.
Sources: Brighthub