A lot of people wonder what tweaks to install after they Jailbreak their iPhone, iPod Touch or iPad. I know quite a few people who have Jailbroken devices and a lot of them have maybe 1 or 2 tweaks installed, and it is because they just don't know what to install. I have finally come close to perfecting the setup on my Jailbroken iPhone 5 for the time being, and as such I thought I would share my particular setup to give you some inspiration what Cydia tweaks to try on your device. Down the road I will also make a similar post to this one for the iPad.
The Lockscreen
The Lockscreen of my iPhone 5 is the only area that I am not 100% satisfied yet, and I have a feeling I will be changing it up shortly. Regardless, I am happy with how the lockscreen looks, which was accomplished with a WinterBoard theme, it's just notifications aren't displayed with a Lockscreen WinterBoard theme and this sometimes becomes an annoyance.
The tweaks I used to accomplish the Lockscreen are as follows:
WinterBoard (Typophone 4, User Lock Background)
Clock Hide (to hide the Lockscreen clock for the Typophone theme)
The Homescreen:
The Homescreen is the most heavily modified area of my iPhone 5. I have used the power of Springtomize 2 to shrink icons and give it that nice coverflow effect on the dock. I have Infinidock installed to make my dock scrollable as well, and of course I utilized a wide variety of Dashboard X widgets. I also have Barrel installed for page flipping animations.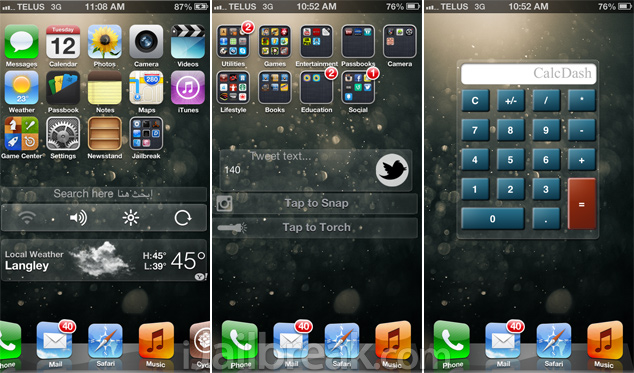 The tweaks I used to accomplish the Homescreen are as follows:
Dashboard X
Infinidock
Barrel
The Dashboard X widgets I used are as follows:
Weather Widget
Google Dash
NCSettings
Dashtweet
InstaSnap
TorchNC
DashCalc
The Notification Center
The notification center on my iPhone 5 utilizes a tweak from Ryan Petrich called FastBlurredNotificationCenter to give it that nice background. The only 3rd party widgets I have enabled in the Notification center are a Cydia search widget and toggles from NCSettings.
The tweaks I used to accomplish the Notification Center are as follows:
FastBlurredNotificationCenter
Cydia SearchNC
NCSettings
Other Areas 
The only other areas of my iPhone 5 I have tweaked is the multitasking switcher and the ability to get Cydia push notifications. Right now I have it set so if you double tap the status bar, my iPhone will automatically check for Cydia updates without me having to actually launch Cydia. I have also utilized the popular auxo Cydia tweak to dramatically increase the functionality of my multitasking switcher.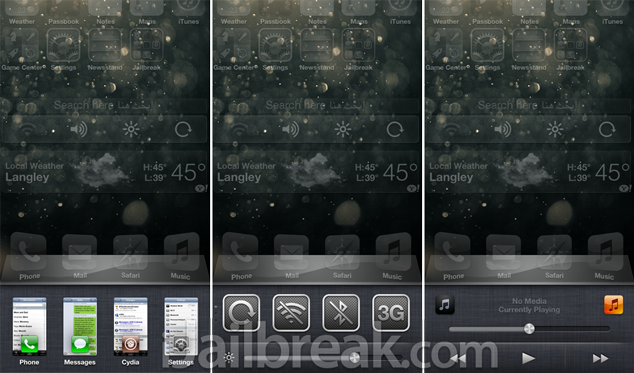 The tweaks I used to accomplish this are:
Activator
Curiosa (for the Cydia updates)
Auxo
…
All-in-all I am pretty happy with my current iPhone 5 setup. There is definitely room for improvement in areas such as multitasking, Siri and other stock app tweaks, but I will get to that as time goes on. As for the price of this setup here is a quick calculation:
Auxo – $1.99
Barrel – $2.99
Springtomize 2 – $2.99
Dashboard X – $1.99
Infinidock – $0.99
Total: $10.95
The rest of the Cydia tweaks are free and can be found in community repos. The only two tweaks that can't be found in community repos are FastBlurredNotificationCenter and Curiosa. You will have to add Ryan Petrich's repo which is http://rpetri.ch/repo. Let me know what you think of this setup and if you have any suggestions.
P.S. You can find the wallpaper I used for my iPhone 5 and many others here.