With the iOS 4.2.1 firmware being released just yesterday, you might be asking yourself how you would go about backing up your Cydia tweaks/apps. As having to manually install each tweak/application can be a tedious task, if you are planning on doing a firmware restore. The answer to this question is quite simple, and to be honest there are a couple methods for doing a Cydia package backup. The first method is manually using MobileTerminal commands, however because this a more advanced method; for now I thought I would show you guys how to do backup your Cydia packages using a free application called AptBackup (from BigBoss repository).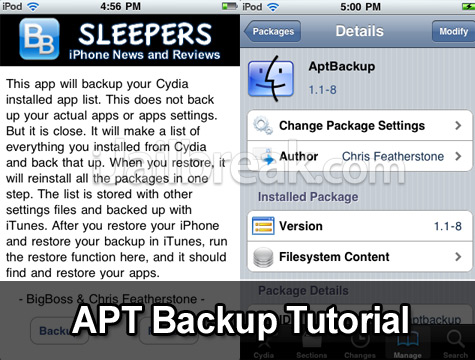 Below is a quick tutorial on how to backup your Cydia apps/tweaks with APTBackup
Step 1) The first thing you will need to do is launch Cydia from your SpringBoard and search for aptbackup. Once you see APT backup on your search results you will want to click it and install it to your iDevice.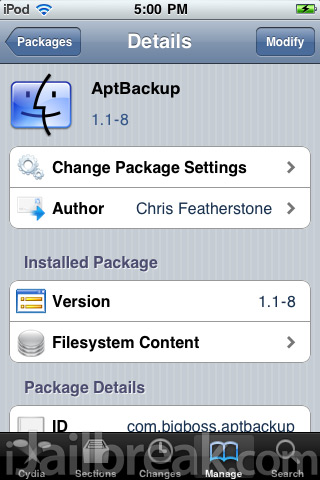 Step 2) Now once you have APTBackup installed to your iDevice, you will want to launch the app from your SpringBoard. Once APTbackup is up and running you are going to need to click the backup button (this should only take a few seconds). Once you click the backup button, you are done working from your iDevice… for now.
Step 3) You are now going to need to switch back to your computer and launch iTunes (ensure you plug your iDevice into your computer). Once iTunes has launched and you have plugged your iDevice into your computer you are going to want to right click on your iDevice tab and click the Backup button. You see the way AptBackup works is that when you backup your iDevice from iTunes, iTunes is also tricked into backing up a list of Cydia apps you have installed on your iDevice.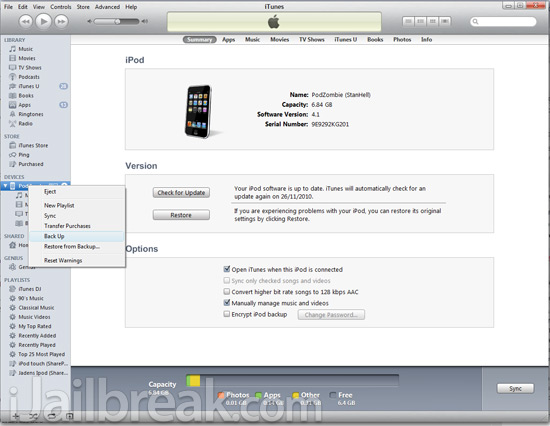 Step 4) Now if you simply wanted to backup your Cydia apps, in case of an emergency, you are done. However, if you are going restore your iDevice to a later firmware version now is the time to do this. Note: Step 6 explains on how you would go about restoring your Cydia apps back to your iDevice.
Step 5) Once you have restored your iDevice, you are now going to want to re-jailbreak your iDevice. You can follow some of our tutorials by clicking here. Once you have re-jailbroken your iDevice, you will need to launch Cydia and re-install AptBackup.
Step 6) Once you have re-installed AptBackup you simply need to close Cydia and launch AptBackup. Now that AptBackup is up and running you simply need to click the restore button and AptBackup will begin installing all of your previously installed Cydia tweaks/apps (this can take awhile). Once AptBackup is finished installing your previously installed tweaks/apps you should now be back in action (once your iDevice reboots)! If you do not see any of your apps/tweaks installed you may need to reboot your iDevice on last time.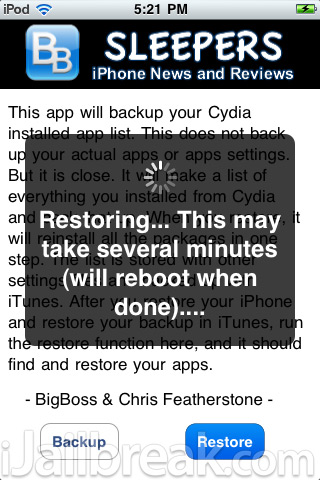 I hope this tutorial has taught you how to properly backup your Cydia apps/tweaks. If you need any help, please leave your questions/comments in the comments section below.
You may also like to check out: