Hate restoring your iPhone, iPad, iPod Touch and losing all of your Cydia apps and tweaks? If your answer to that is yes, then PkgBackup is for you! PkgBackup is a super simple app that lets you backup and restore all of your Cydia apps with just a few taps and works on all iPhones, iPads and iPod Touches.
When you first open the app you are presented with two sections, a active packages and a backups section. The active packages section is where you make your backups and the other is where you restore your backups. To choose which packages to backup, just tap on the blue arrow. This will then present you with a screen with two tabs at the bottom. One is just a list of all installed packages and the other is divided into sections, like Cydia. Packages you want to backup are in blue and just tap any to 'uncheck' them and they then go black (there is a button to invert the colours, if you wish to do that).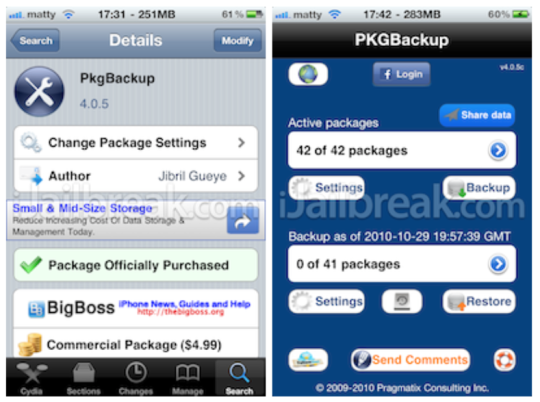 Once you've chosen your packages, just hit the button in the top left to go back to the main screen where you can then proceed to tap the "Backup" button. The app saves the backup as a contact in your address book, which means it's extremely safe as you never really lose all your contacts during a restore of your device.
You can now restore in iTunes and jailbreak as normal, then restore your data (especially contacts) and install PkgBackup once again. When you've done this, you can repeat the above process of selecting apps but this time to restore. Once you've finished just tap the "Restore" button and wait until you get a popup telling you to reboot. When you have rebooted, all of your Cydia apps should be back on your device. Easy!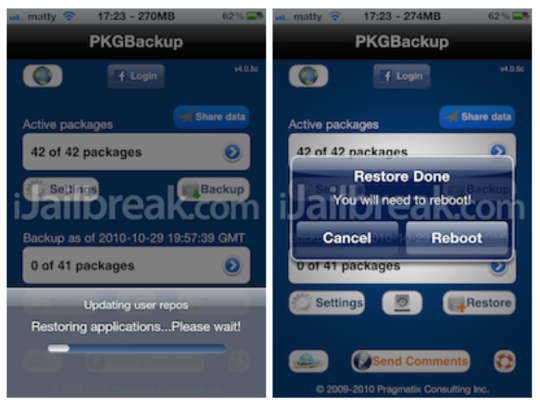 The app does come with a few other extras and options. The first is that if you tap settings in each of the sections, you can choose which sources/repositories you want the app to backup/restore; include the SpringBoard layout (requires SBOrganizer) also Categories folders which isn't really needed on iOS 4. In the backup section you will also notice a small button in the middle, this lets you choose a backup if you have more than one.
That's about it, PkgBackup is available in the Cydia Store for $4.99, about £3 if your from the UK like me.
You may also like to check out: