The Hands-Free Control Cydia tweak is one of those tweaks that I would recommend to anyone who has an iPhone 4S (or older iOS device with Spire installed) and wants to have the freedom of activating Siri without actually having to hold down their Home button. This means your iPhone 4S could currently, for example, be sleeping, and with a keyword of your choice, Siri will activate and be awaiting your every command.
As your iPhone 4S will be constantly listening for the activation keyword there is some noticeable effects on your battery life, but I wouldn't say it is a dramatic effect. And to make matters better the Hands-Free Control Cydia tweak comes with settings to help you minimize the footprint on your battery life such as sensitivity and audio quality adjustments.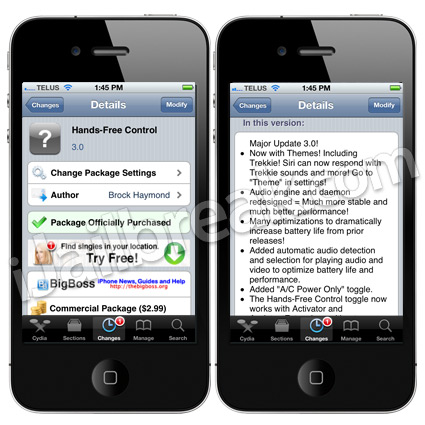 Today a brand new update for the Hands-Free Control Cydia tweak was brought to our attention. This update brings Hands-Free Control to version 3.0 and includes numerous improvements and new features. Probably one of the most note-worthy features in Hands-Free Control 3.0 is Siri sound themes. With these Siri sound themes you can change the voice of Siri to resemble a Trekkie, a British person (my personal favourite), an American person and even others!
Besides the addition of Siri sound themes there has been many core optimizations to greatly improve battery life and stability. In fact, the Hands-Free Control Cydia tweak now works with Activator, AssistantExtensions and even includes a SBSettings toggle to turn off the listening service at your convenience. There is even some bug fixes to do with bluetooth compatibility and other issues effecting system volume and vibration.
If you are interested in the Hands-Free Control 3.0 Cydia tweak you can find it through Cydia for a price of $2.99. Of course if you have already purchased the Hands-Free Control Cydia tweak you can simply refresh your sources and update to version 3.0. Don't forget to let us know your thoughts on this update in the comments.