Finally a tweak that has been released into Cydia that is not a copy of an existing tweak we have seen a million times done a slightly different way! Introducing Flex. Flex is a Cydia tweak that was just released into Cydia on the BigBoss repo that "lets you exercise the limits of your device by enabling you to make your own jailbreak tweaks."
Flex is a really unique idea for a Cydia tweak that is sort of like Springtomize, but with endless possibilities. With Flex you can essentially modify any part of iOS with limited technical nohow. You don't need to be a programming whiz to use Flex, or to be honest, have any experience with programming whatsoever. Flex includes a getting started tutorial that will explain everything you need to know about creating your own Cydia tweaks.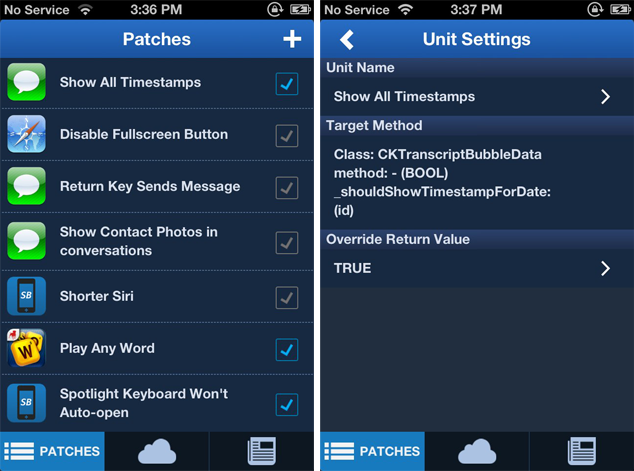 Even if you don't want to spend time creating Cydia tweaks, the beautiful thing about this tweak is it includes something called the Flex community cloud. This allows you to download and install tweaks created by other users of Flex. Some of the tweaks already on the Flex Community Cloud include: Show All Timestamps in Messages, Show Contact Photos in Messages, Remove the Camera Grabber from the Lock Screen, Unlimited Safari Tabs and even a tweak to remove the Newsstand app from the home screen.
You might be thinking to yourself, with so much power over my device won't I mess something up and have to restore my device? Well, you would be wrong. The developer of Flex has noted he has included many safeguards against this and the worst that could happen is that you have to go into flex and disable a tweak.
If you are interested in Flex you can download it from the BigBoss repo for a price of $3.99. Definitely keep this tweak in mind when you Jailbreak Untethered on the iOS 6.x firmware on Sunday.