It has become very apparent that Apple is not a fan of Jailbreaking. It seems like they are constantly making it harder and harder for Jailbreaking to be continued when new firmware updates are released. This is the reason we still do not have an Untethered Jailbreak for the iOS 5 firmware generation. Besides Apple not being a fan of Jailbreaking, certain companies with applications in the AppStore have actually come up with their own Jailbreak detection methods that block the application from running on a Jailbroken iDevice. Just some of these apps include:
Bloomberg Anywhere
Cablevision
Cisco M-Learning
DirecTV for iPad
Grimm's Fairy Tales
Time Warner Cable
Verizon On Demand /FlexView
If you would like to run an application shown on the list above, you will be glad to know that with the Cydia tweak xCon, this is now possible.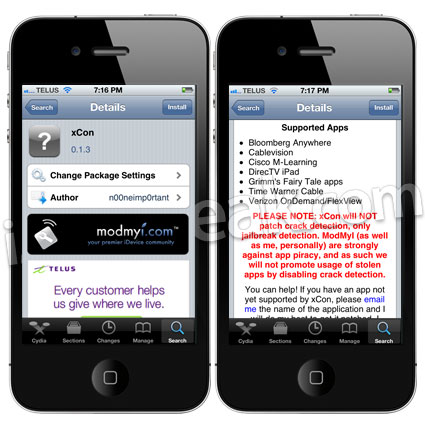 You see, the xCon Cydia tweak runs apps with anti-jailbreak protection in a special contained environment where they cannot detect whether you have a Jailbroken iDevice or not. Thus, allowing you to run whatever AppStore application you wish, without having to worry about whether it has anti-jailbreak protection or not. If you would like to run apps such as Cablevision on your Jailbroken iPhone, iPod Touch or iPad. Simply download the xCon Cydia tweak from Cydia for FREE on the ModMyi repo, and enjoy the ability to once again use any app you wish from the AppStore.
Note: If you notice an application that is not supported by the xCon Cydia tweak then please email the developer (n00neimp0rtant@me.com).
Let us know what you think of the xCon Cydia tweak in the comments section below…