Here's the thing about notification banners in iOS–they all look pretty much the same. White box, black text, and an icon to the side. Sure, it's an inoffensive piece of UI design that doesn't look too out of place in any app, but it can come at the price of making it difficult to distinguish at a glance where the notifications are coming from, especially if you're not close enough to your iPhone or iPad to get a good peek at the display. Plus the uniform, black and white banners are drab.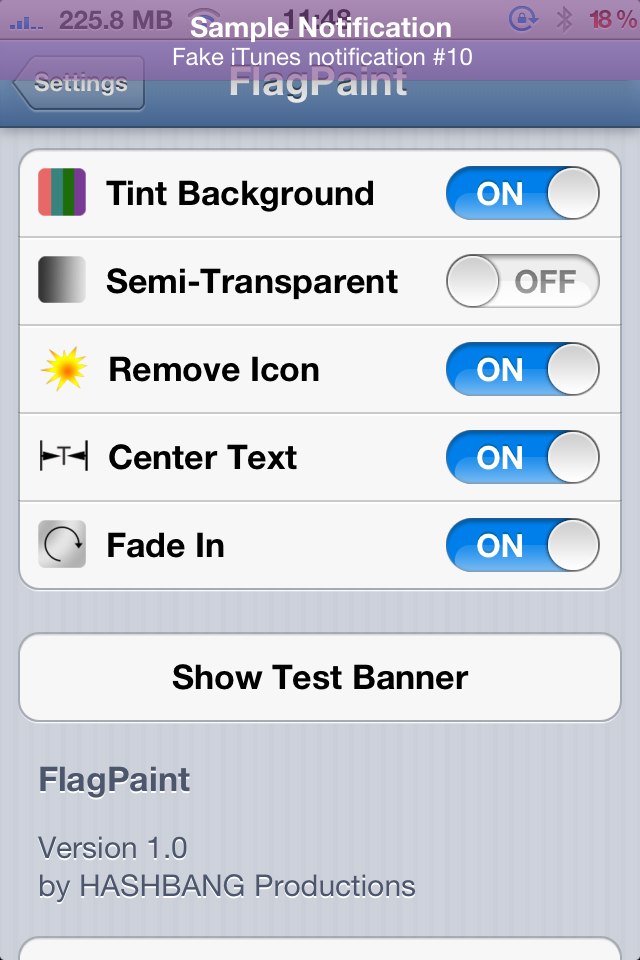 The tweak: FlagPaint isn't the first Cydia tweak to color the notification banners, but it is the first tweak we've seen that colors each banner based on the notifying app's icon. With color coded banners, you'll know that the green banners are for Messages, the blue banners are for Facebook, and so on.
But coloring the background is just one of the options. In Settings you can find toggles to make the banners transparent, remove the icons, center text, and have the banners fade in instead of the usual animation. It also includes a handy test banner button that launches fake iTunes notifications, which is a nice touch.
Where to find: FlagPaint a paid tweak that is available in the BigBoss repository on Cydia. Flagpaint costs $0.99.
Synergy: Quantum is a tweak that allows you to change the font inside the banners–allowing for more customization; if you want another tweak to complement FlagPaint, StatusColor is another 'chameleon tweak' that changes the status bar at the top of the screen to match the app you're in.
Do you think FlagPaint is a Cydia tweak that deserves a place on your phone? Share your thoughts in the comments section below.