A few days ago, a certain Cydia developer previewed a really cool theme for the iPhone and iPod Touch called iOS 86. This theme has got a lot of attention for the simple and old school black and white look that it has. It's like a theme from the past, something retro that will surely capture yours and others attention.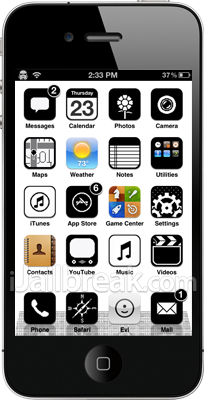 Anton Repponen designed the amazing concept for this theme and then it was taken as a project by a developer known as AR7, who recently submitted it to Cydia. Yes, the theme is currently available for download in Cydia and does make your iPhone or iPod Touch look and feel like it's from the past. The theme isn't that well made as it still lacks icons for apps that didn't come with iOS, but it does work well on iOS 5. If you are interested to give it a try and want to know how it feels, then follow the steps below to get it now:
Launch Cydia and add this repo: http://repo.ithemes.it by going to Manage>Sources>Edit>Add.
Make sure you have WinterBoard installed as this theme requires it (how to install WinterBoard).
Once the repo is loaded, use the Search option to look for iOS 86.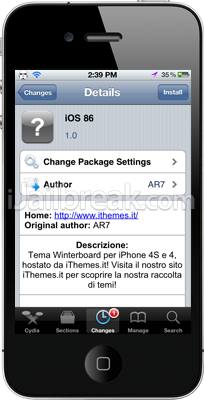 To make the theme look better, you would need a matching white background wallpaper. See image below:
That's it! You now have the retro looking iOS 86 theme running on your iOS device. Whether you want to keep it or not is totally up to you. But, do try it as it does look pretty awesome.
What do you think of the iOS 86 theme? Do you like it? Have you tried it yet? Let us know in the comments.
[Via iSpazio]