If you are not a fan of heavy DreamBoard or WinterBoard customizations, but are looking for a more subtle way to theme your iPhone, iPod Touch or iPad then you may want to check out Athena. The Athena Cydia tweak allows you to adjust the style of your device's home screen icons.
Upon installing Athena you will need to head on over to the Athena preferences panel found within the Settings app. You will then see there is four options to customize the icons on your device's home screen. This includes Set Color Scheme, Set Intensity, Set Blend Mode and Set Alpha.
The first thing you will need to do is set the color scheme as the rest of the options rely on this master Setting. Next you can adjust the intensity which will make the colors become darker or lighter depending on the position of the slider. Blend Mode will really start to make your icons look funky and there is a ton of different blend modes, you can experiment with. Lastly you can set the alpha transparency for the icons (this will give them a ghostly effect if set below 100%).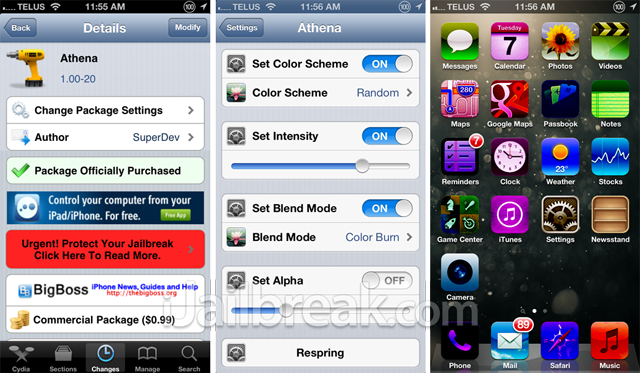 Athena allows you to make some pretty cool looking icon themes if you spend the time to get the settings just right. The only downside to this tweak is you have to re-spring for changes to take effect, but other than that it is a solid tweak. You can find it in the BigBoss repo for only $0.99.
Be sure to let us know what you think of the tweak in the comments section below and don't forget to check out our video walkthrough.