Whenever we jailbreak our iPod Touch, iPhone, iPad we do it for a purpose, and usually this purpose is to get 3rd party applications, however once in awhile apps come along that really remind us why we jailbreak. Today one of these apps just happened to show up and this being a brand new app called PwnTunes.
PwnTunes was developed by SpiritOfLogic; who is the developer behind iRealSMS. This new application opens up your iPod Touch, iPhone, iPad to raw USB disc access – meaning that you can access the files like a USB drive. PwnTunes adds a folder where you are free to drop any music and it will be converted and put on your iOS device. The applications also adds itself as a plugin to the native iPhone Music Player app, and upon launch the app syncs music from your drop folder directly into your iPad, iPod Touch, iPhone's music library.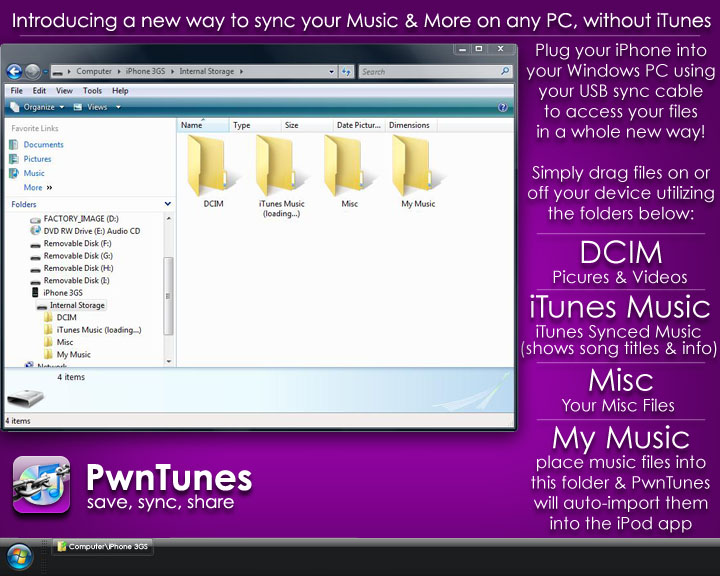 The great thing about PwnTunes as that it allows you to "sync" your iOS device with any computer without having to erase any data on your actual iDevice. It also allows you to easily share your music on a friends computer because of the easy to use USB disc access. You can take a look at some more of PwnTunes features below…
Drag and Drop Music Import/Export without iTunes
If you don't like iTunes now you can simply ignore it – and have your Music with you anyway!
Now you can import Music from all your friend's PCs without loosing Music already on device.
Access iTunes Music from any PC without iTunes
Now you can share all your Music with all your friends – as simple as with every USB-Stick / MP3-Player.
Now you can backup your iTunes Music to another PC.
Use iPhone/iPod/iPad as USB-Stick for any Files
Now you can take advantage of the iDevice's harddisk as a USB-Stick and take all your Files with you – and leave that little ugly USB-Stick at home.
No extra Software on PC required
All this is as easy as plugging the USB cable into any PC.
As you can see PwnTunes looks like a great new application that is definitely worth checking out. I have not yet personally used PwnTunes because it actually has a price tag of $12.29, but I may in the future look into purchasing this new app. One feature that I really like about PwnTunes is its USB functionality because it would be very convenient to be able to just drag small items onto my iPhone instead of having to take my USB drive around with me.
For more information on PwnTunes check out their website http://pwntunes.net/. If you have tried PwnTunes I would really like to hear your feedback on using this new application.
Update #1: PwnTunes is distributed through Cydia. You can follow these steps to install it:
Jailbreak your iPhone, iPad, iPod Touch.
Launch Cydia Installer.
Choose Sections -> Data Storage.
Choose PwnTunes and Install.
Connect your iPhone, iPad, iPod Touch via USB and PwnTunes will download your License or ask you to buy one.
Enjoy!