It seems like a lot of developers that have been associated with the Jailbreaking community are getting into iOS app development, the first being Pod2G with his DJ app for the iPad. Now GeoHot is actually going to be releasing an app into the App Store that's aim is to compete with the likes of Instagram and other photo sharing websites. Just how does GeoHot hope to do this? Well, with his app Reactions! Reactions is a simple photo sharing app with a twist, it also uses your device's front facing camera to snap a photo of your expression while shooting a photo. Additionally, you only have 3 seconds before the photo is automatically shared across your social networks.
By taking a read through the official Reactions website, it is hard to take the app seriously and in some cases it makes me think the app is just a joke… I guess we will have to wait and see. This one excerpt from the website trying to explain what Reactions is, is a good example of what I am talking about.
Previous photo applications only allowed the use of one camera. Or even worse, let you choose between cameras. Disgusting. Here at Reactions we don't believe in choice, we believe in both. Why make Obama president? Let Obama and Romney be president. Let's even let Ron Paul be president too.
The idea of Reactions is actually pretty neat, but there is a couple things I am not a fan of. First of all, the requirement to basically force you to share your photos across your configured social networking accounts will not appeal to a lot of people. Furthermore, the website, while funny, leaves me to the impression that it is a joke. Making it a little bit more serious seems appropriate if this is actually a serious project from GeoHot.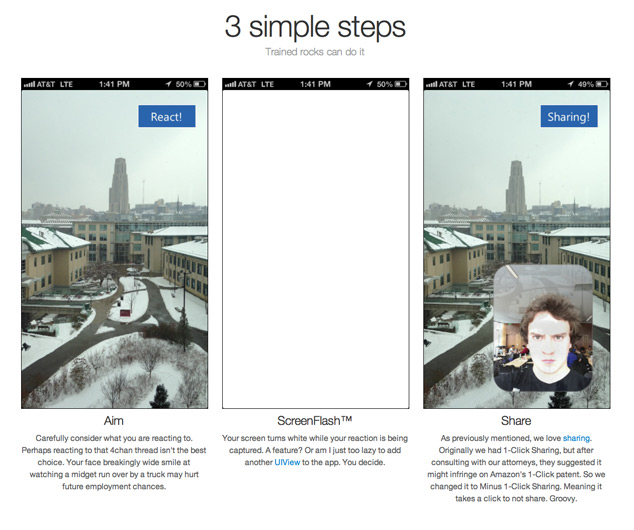 What do you think of the idea of Reactions? Do you think it will take off in the App Store if it is actually released? Drop us a line in the comments section below.