If you have not heard of the ZAGG invisibleSHIELD I would be very surprised. This is because the ZAGG invisibleSHIELD is one of the most popular screen protectors for smartphones and various other tech gadgets. The ZAGG invisibleSHIELD is made out of military grade material which is actually used to protect the rotary blades on helicopters. This material is not only the ideal protection from unwanted scratches, once applied, you can hardly notice that you even have a screen protector in place.
When the iPhone 4S was first released and ZAGG announced their iPhone 4S invisibleSHIELD lineup, unfortunately our 20% off discount code was not compatible with this. Now, however, our 20% off discount code will work with iPhone 4S ZAGG invisibleSHIELD. So without further a due the 20% off coupon code can be found in the quoted area below.
iJailbreak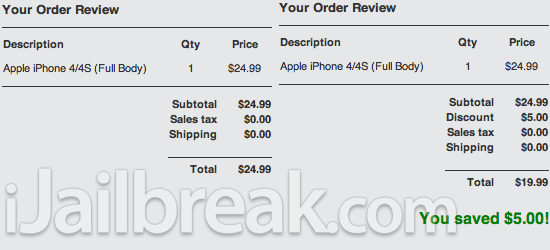 What are you waiting for? Click here to visit ZAGG.com and see how they can protect your smartphone from unwanted scratches, and keep it charged throughout the day.
Note: Our 20% off discount code will also work with the ZAGGsparq, iPhone 3G, iPhone 3GS, iPhone 4, iPad, iPad 2 ZAGG invisibleSHILED and more! Shop ZAGG.com now!