It was discovered when Apple was beta testing iOS 7 that non-certified Lightning cables would trigger a warning stating that the cable you were using was not an official accessory. Specifically you would be returned with the following message ""This cable or accessory is not certified and may not work reliably with this iPhone."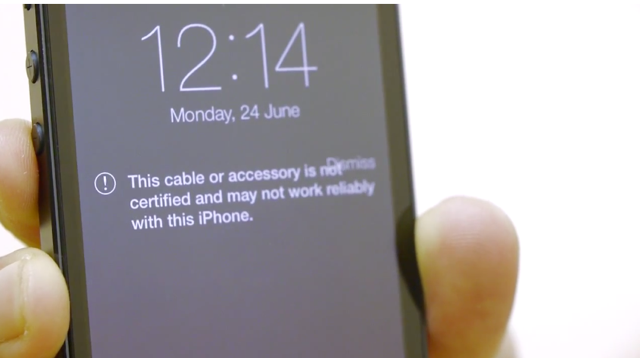 With the final release of iOS 7 Apple has went a step further and has actually made it so non-certified Lighting cables cannot actually be used to charge a device running iOS 7. That's right, Apple has essentially rendered them useless.
Or have they?
A workaround has actually been reported on a Reddit thread that has allowed some people to once again use their 3rd party Lightning cables. It is worth noting, however, that the results have been hit or miss.
Turn on USB power.
Plug in Lightning cable to iPhone.
Dismiss any warnings.
Unlock your iPhone.
Dismiss any remaining warnings.
Now with the screen turned on, unplug the Lightning cable.
Plug it back in.
Dismiss warning again. It should now charge.
Even with the workaround this is still going to be a bummer to a lot of people who purchased 3rd party Lightning cables.
We previously heard that certain manufactures figured out how to crack iOS 7's detection though, so we will have to wait and see how things progress over the next few months.