The iOS 9 release didn't go as well as expected for Apple. The update has caused a lot of issues for users, including bricked devices thanks to 'Slide to Upgrade' bug. If you've been facing that particular bug and our fix didn't work for you, then you must upgrade to iOS 9.0.1 now.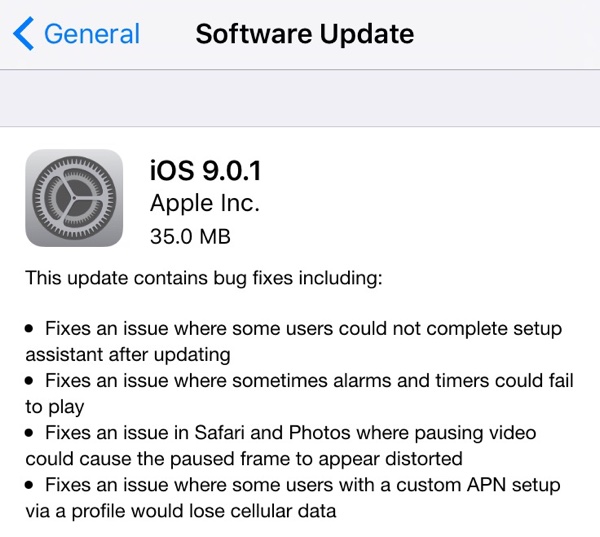 Those who were successful in installing iOS 9, have been plagued with slow performance, lag and battery life issues. Many users have complained that after updating to iOS 9, their devices were much slower and had a lot of lag. Although, this could've been due to the new Spotlight indexing feature in iOS 9.
However, if you've faced any of the above said issues, the iOS 9.0.1 update will most likely fix it. Apple has outlined in the changelog that the iOS 9.0.1 update fixes the dreadful stuck at Slide to Upgrade bug.
Here's the complete changelog for iOS 9.0.1:
Fixes an issue where some users could not complete setup assistant after updating
Fixes an issue where alarms and timers could fail to play
Fixes an issue in Safari and Photos where pausing a video could cause the paused frame to appear distorted
Fixes an issue where some users with a custom APN setup via a profile would lose cellular data
How to Install iOS 9.0.1
If you're already on iOS 9, then simply head to Settings>General>Software Update and install the 35MB update via OTA method.
If you're stuck on the iOS 9 Slide to Upgrade screen, then downgrade to iOS 8.4.1 and connect your iOS device to iTunes.
iTunes should now notify of an iOS 9.0.1 update available for your device, click on Download and Update. If you have a slow internet connection, then:
Download the specific iOS 9.0.1 IPSW for your device from our Downloads page.
Connect your iOS device to your Mac or PC. Make sure you've performed a backup before updating.
Go to the Summary page and click on Restore iPhone while holding Shift on Windows or Option/Alt key on Mac. Select the downloaded IPSW and wait for the restore to finish.
Let us know if you're still facing any issues on iOS 9.0.1.