I can't believe we haven't done a tutorial on Veency yet! Veency is one of the most useful Cydia apps around, and one of the big remaining reasons to jailbreak your phone.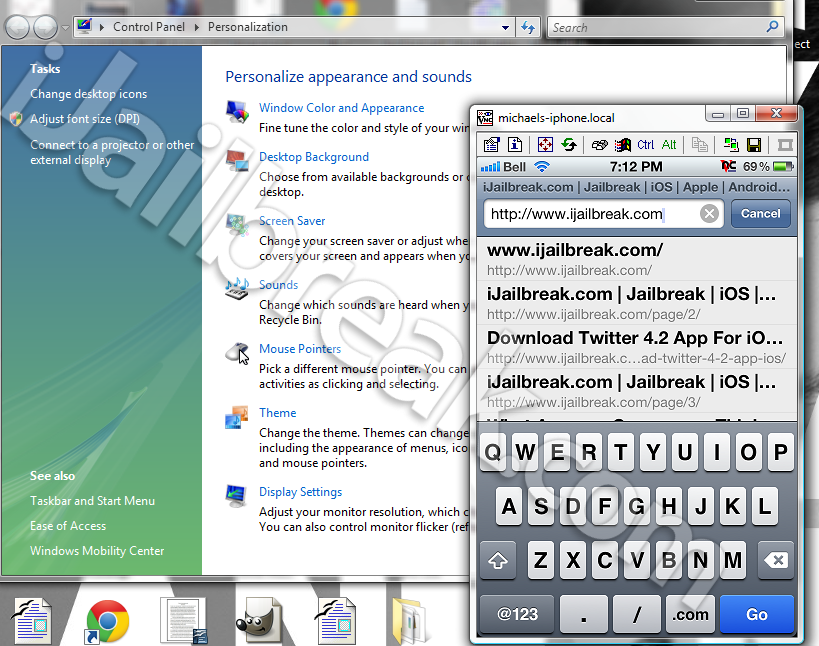 Why use Veency? If you have a setup where your computer isn't directly hooked up to your best stereo, it can be a pain to get up to change songs. Veency also allows for mouse and keyboard input, so you can respond to alerts and text messages through the miracle of VNC while your iPhone is far away in the stereo dock. Veency allows for full access to your phone and is comparable with clients on almost any computer (including other iDevices).
What you'll need:
Veency
A VNC viewer for your computer
(I use TightVNC for Windows, the Viewer has a multiplatform version that will run on any system with Java)
A WiFi network connected to both your computer and your iOS device
Part 1 – Setting Up The Server
Veency is available from Cydia. It's in the BigBoss repository, so it should be available by default on any Jailbroken iPhone.
1. Search for Veency on Cydia. (You should see two apps, Veency and the Veency SBSettings toggle. We're going to install Veency first.)
2. Install Veency from its page on Cydia. The correct package should belong to Jay Freeman (@saurik) in the Cydia/Telesphoreo repository. It's a free package and should also install dependencies for mouse and keyboard support.
3. While you're in Cydia, pick up the Veency SBSettings Toggle. It will let you disable Veency from SBSettings while you're not using it, which will help keep your phone secure and save on battery life. If, for whatever reason, you don't want to use SBSetting you can switch off Veency from the stock Settings menu.
4. Now we're going to set a password for Veency. Go to Settings, scroll down to Veency, and enter whatever password you feel comfortable with. If you forget your password, you can switch it whenever you want.
Part 2 – Connecting With The Client
1. Download an install the VNC client of your choice. I use TightVNC's viewer, but any VNC client will work for your purposes. You do not need to set up a server on your computer, your iPhone will take that role.
2. To start a new VNC connection, make sure that your iOS device and your computer are on the same network. (Unless you want to pay the bandwith cost for constantly streaming video from your iPhone's display.) Make sure Veency is enabled.
3. Find your device's Wifi IP address (this is the local IP address on your network, not the global IP address on the internet). It should be displayed in SBSettings. You can also find it in Settings -> WiFi Networks -> [Your Network] as your IP Address under DHCP
4. In your computer's client app, enter your WiFi IP Address as the server. For the password, use the password you entered in settings.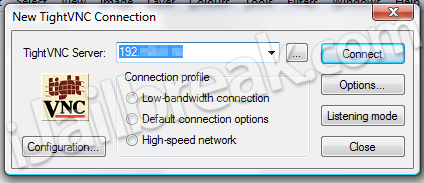 Part 3 – Optimizing your connection
Your monitor's probably not big enough to comfortably handle the iPhone 4S' Retina display. It nearly takes up half my laptop's 1680 by 1050 screen. In TightVNC you can modify your screen size by clicking on the settings button in the top left hand corner of the Window. I find my phone's interface is most usable at 50%. This gives you the least amount of visual artifacting.
You'll also notice some latency depending on your encoding settings. Veency isn't really usable with a Raw feed. My preferred setting is Zib(Pure) encoding with no JPG compression. It looks good and feels like real time when you're playing music, but it works best when there's not a lot moving on screen. Using that setting you can comfortably change songs and update Facebook. If you want more speed you can sacrifice some visual quality by using 8-bit colour, but don't expect to win any fast paced games like Jetpack Joyride. (It actually has trouble displaying some games like Jetpack Joyride and Draw Something, but Words With Friends works fine.)
Cheat Sheet – Controls
The default controls for Veency are:
Left-click = tap
Right-click = home
Middle-click = lock
You can also use your Desktop's keyboard as a bluetooth keyboard for your phone while the VNC viewer's window is open.
This is one of my all time favorite Cydia utilities. Let us know how Veency works for you in the comments section below.