One of the new features in Windows 8 is tighter integration with touch pad gestures on laptops. With that in mind, it's amusing that the release to manufacturer build of Windows 8 does not include support for touch pad gestures on laptops. More ironic is that the drivers that are currently available to enable this support were designed to be cross compatible between Windows 7, Vista, and XP.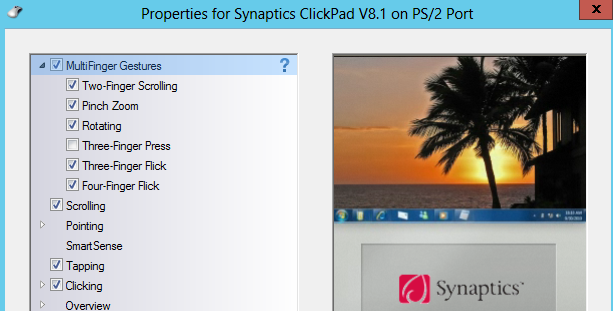 The reason for the lack of inclusion of touch pad support, as a representative from Microsoft told CNET, is that Windows 7 RTM offers generic support for touch pads, but does not use the beta multi touch software from ELAN or Synaptic because they do not have the rights to distribute them. One wonders why they had the rights to distribute the software for the Release Preview.
The Windows XP/Vista and Win7 32 or 64-bit editions of the generic Synaptics TouchPad driver should be enough to enable full multitouch control in Windows 8 for most users. (Make sure you install the right one.) If you're using a touchpad from ELAN Microelectronics Corp, you may have to download the touchpad from your computer's manufacturer, as they do not seem to publicly provide an all-purpose driver.
It will be interesting to see if manufacturers will include full trackpad support for Windows 8, and what will happen to users with ELAN touch pads who upgrade their Windows 7 computers. Will they be at the mercy of their individual device manufacturers, or will Microsoft include more robust driver support?
Share your thoughts in the comments section below.